Bakersfield, CA (9/20/2018) - 51 Fifty's David Haagsma scored his second victory of the season during the WORCS Racing Series Pro SXS race at Glen Helen Raceway in Devore, CA. The victory allowed him to pad his points lead with just three races left in the season.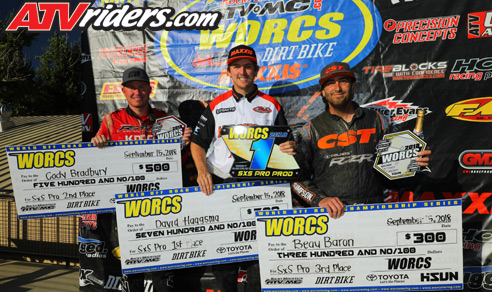 51 Fifty's David Haagsma Takes the Win at Glen Helen WORCS
The event marked the return to WORCS competition after the long summer break, and things didn't start out smooth for Haagsma as he suffered an engine failure during Friday's practice, but with the help of Cognito Motorsports and Sparks Racing, Haagsma had a new engine delivered and installed just in time for the Pro event on Saturday.
The new engine ran flawlessly, and Haagsma snagged the holeshot at the start of the race, but fell back at the end of the long straightaway on the first lap. He sat back in second until the final lap when he made a thrilling pass and cruised to victory
"I had the lead, got to the big straightaway and didn't know where I was going, braked way too early and Cody just blew by me," said Haagsma. "The rest of the race, I just followed him, trying to figure out lines, picking up speed behind him, and trying to figure out where I could pass him."
Haagsma had tested the corner several times before committing on the final lap. Using an inside-outside move, he stuck it and made a clean pass.
"The very last lap, I knew I had to send it, so on the long straightaway right where he passed me, I went wide and used the loam to kind of cut in and dive inside on him, and it worked out perfect," said Haagsma. "I just got enough in front of him and had the lead from there. It was a great race; especially for how bad of a weekend we had before this."
The win came at a good time for Haagsma. After trouble in the last round, he still holds the points lead, though by a slim margin. He extended his lead to seven points going into the final three rounds.
"The last round I didn't have a good race and a lot of issues and ended up sixth, so Cody made a lot of points up," said Haagsma. "It made that gap really slim, so to get a couple more points on him and spread it up a little is good because he's going to be coming to the rest of the year, and he's always a competitor. It's not over until the very last round."
Glen Helen is known for its massive elevation changes, and challenging terrain. This year's track also featured a mix of mud and hard pack surfaces. Haagsma said his Maxxis Tires gave him reliable grip during the entire event.
"I got the holeshot easily," explained Haagsma. "There was a lot of different soft and muddy and hard packed terrain. Maxxis tires worked well in all of it."
During the summer break, Haagsma took himself off the market and got married. "I have a number one fan for life," joked Haagsma. "She has to love me whether I win or suck, so it's good,"
Haagsma will return to the WORCS Series at its next round scheduled for October 5-7 at Mesquite MX in Nevada.
H&M Motorsports' 2018 Sponsors:
Maxxis, 51FIFTY, Polaris, H&M Motorsports, HP Dairy, Haagsma Farms, SPARKS Racing, Cognito Motorsports, Tire Blocks, FOX Shocks, Shoei Helmets, K&N Filters, Method Race Wheels, Lusardi Motorsports, Finish Line Signs, The Winning Team Apparel & ATVRiders.com