Casper, WY (8/16/2018) - Can-Am Driven Powersports' rider Don Higbee will join forces with Jose Torres and Adolfo Arellano looking for victory in the Vegas to Reno Best in the Desert Series race. The trio will be competing in the event, which is also the Pro ATV class season finale, riding a Can-Am Outlander. The 550-mile race is scheduled for August 17-18.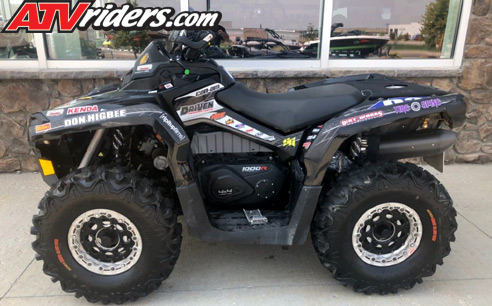 Can-Am / Driven Powersport's Don Higbee built a brand new Can-Am Outlander 1000 for the Vegas to Reno
Riding the only 4X4 Utility quad in the class, Higbee is currently third in points. Still within shooting distance of the championship, Higbee is gunning for a win in America's longest desert race.
"Our goal is to win Vegas to Reno so with some luck we can get that number one plate," said Higbee. "The team is really clicking. We really have the bike dialed for this race. Can-Am has given us great support this year, and we have a fresh bike underneath us for this race. One of our strengths is organizing and planning before the race and that has led to great work in the pits and on the track. We work really well as a team."
Arellano and Torres hail from Baja, Mexico and this marked their first full season on the Driven Powersports team. While many in the series run the sport quads, Higbee has been developing the Can-Am Outlander for the last two years with great success.
"Those guys have done awesome this year," said Higbee. "It was their first season on a 4X4 and, while it took some getting used to, they are laying down some great times in the desert. Plus, they're having fun and at the end of the day that's what's most important to us."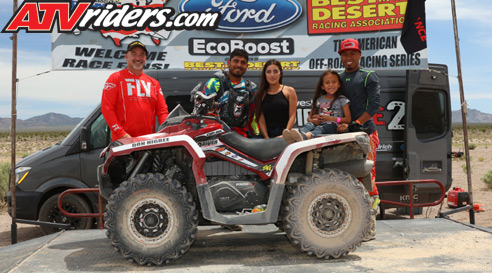 Can-Am / Driven Powersport's Don Higbee along with Adolfo Arellano and Jose Torres are teaming up for the final race of the year
Higbee believes in his proven quad. While there are always advantages and disadvantages in any racing ATV, Higbee thinks the combination of horsepower and durability of the Can-Am will play to his favor in the tough desert environment.
"We've been doing this a long time and we are super competitive," said Higbee. "There are some advantages and disadvantages to racing a utility quad, but they all work out in the end. On any given day, we can win and we think we'll be there at Vegas to Reno."
Look for Higbee, Torres, and Arellano to finish the season with a win. ATVs will stage at 5:15 a.m. PDT on Friday, August 17 in Beatty, NV with quads starting approximately one hour later. The race will run through the day and into Saturday morning.
Driven Powersports Racing 2018 Sponsors:
Can Am, Driven Powersports, Custom Axis, Tucker Rocky, Dirtworks, Tire Spines, David Jesse Racing, OMF, Dirtworks, Kenda, DP Brakes, Evans Coolant, Team JDR, Airdam Clutches, Spider Graphix, Cecco Racing