Jacob Rosales Charges at Wild West LOORRS
LOORRS • Round 6 • Wild West Motorsports • Pro UTV Race Report
Marietta, OH (7/27/2018) - Hans Ada Racing's Jacob Rosales made the best of a difficult situation during the Lucas Oil Off Road Racing Series Production 1000 UTV race at Wild West Motorsports Park in Sparks, NV. Rosales is competing in his rookie season, driving a Yamaha YXZ 1000R
Hans Ada Racing's Jacob Rosales
Heavy rains prior to the event made for a muddy race at the fast and challenging course. Rosales took it in stride and was charging toward the front before he was punted into the wall by another competitor. After restarting last, he charged to an 11th–place finish.
"I was doing well, making some moves, but another driver couldn't hold himself and he pushed me into a wall," said Rosales. "I went from last to 11th after driving my way back up. If I had one more lap, I could have made it up to eighth."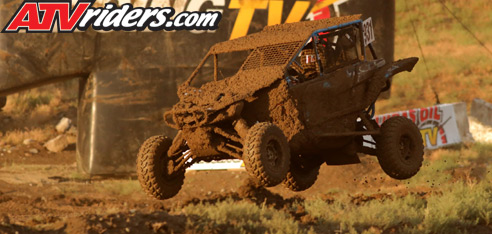 Hans Ada Racing's Jacob Rosales
The sudden rainstorm prior to the green flag took many competitors by surprise. Hans Ada hit the curveball into the upper deck, getting Rosales' car in perfect shape for the slick conditions.
"We went from not knowing what to do in the mud to a perfect setup," said Rosales. Our car was built and it was fast today. Hans' preparation was a huge help."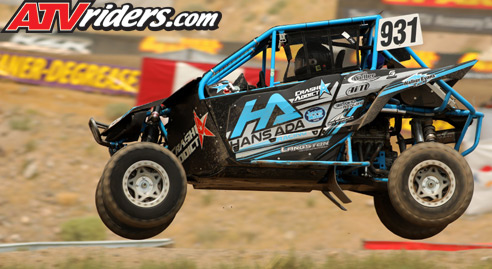 Hans Ada Racing's Jacob Rosales
Although he's the youngest competitor in the field, Rosales has made huge strides in his first season in a national series. Cheering him on are his parents, who both attend every race with their son.
"I didn't know what to expect when I came out here, but I feel like I can compete, and I still have a lot to learn," said Rosales. "My parents have been super supportive. I'm so glad to have them both out here to watch me race."
Rosales will be back in action in his Hans Ada-prepared Yamaha when LOORRS heads to Utah Motorsports Campus in Tooele, UT August 24-25.
Special Thanks to Hans Ada Racing 2018 Sponsors:
Crash Addict, Walker Evans Racing, Langston Motorsports Yamaha, Weller Racing, Beyond Redline Performance, Speedcell, AiM, Drive Motorsports International