Marietta, GA (8/29/2018) – Jacob Gerken scored a season-best top five during the Lucas Oil Midwest Short Course League UTV races at Bark River International Raceway in Michigan. Gerken is driving a Polaris RZR in the Sportsman Stock class.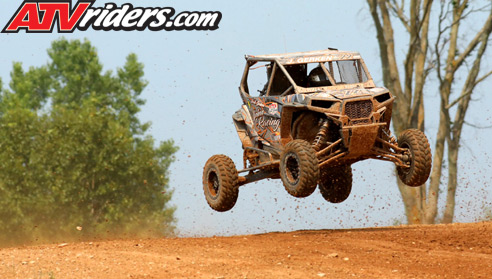 Gerken Racing's Jacob Gerken
The double feature race was held on Bark River's challenging short course in Michigan's Upper Peninsula. Gerken was quick out of the trailer in Saturday's practice session and started on the pole for the race. He finished a season best fifth.
"Practice went well and we didn't have to make any adjustments," said Gerkin. "I started on the pole, got the holeshot and led the race for the first few laps. I had a great race and a good time. The track was fun, fast, and extremely long. The Polaris ran well all weekend."
Gerken carried that momentum into Sunday's events. He got a great start and quickly made it up to third. On a late-race restart, however, another competitor crashed into his rear bumper. After restarting at the back of the pack, Gerken drove his injured machine all the way back up to 13th.
"We were doing well and looking for our first podium," said Gerkin. "But we got slammed on the restart and that send us to the back. It crushed my exhaust header, so once we got back racing the car was very low on power, but we still made it up the middle of the pack. 13th, which was a great finish under the circumstances."
Gerken enjoyed Bark River and now has his sights set on success during the season finale at Crandon. Gerken is doing everything he can to make sure he puts in a strong effort to finish out the season.
"I enjoyed Bark River," said Gerken. "They put on a really good race and we had a great time out there. I'm looking forward to Crandon. I'm throwing everything at the car that I can and we will leave it all on the track."
Gerken will finish out the Midwest Short Course League season August 31-September 1 at Crandon International Off-Road Raceway in Wisconsin.
Jacob Gerken 2018 Sponsors:
Complete Performance, Savage Wraps, Garage Products, Rugged Radios