Pataskala, OH (9/10/2018) - Can-Am/XPS Lubricants/CT Raceworx driver Kyle Chaney finished off the season with his fourth victory, the most any other driver this season, during the Midwest Short Course League season finale at Wisconsin's Crandon International Off-Road Raceway. The finish put him second in Pro Modified SXS points.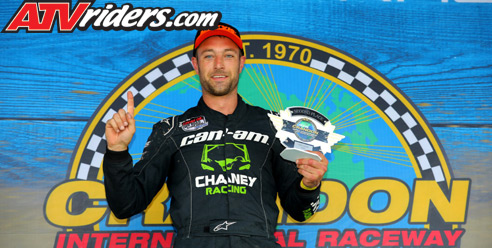 Maxxis' Kyle Chaney secured his fourth win of the Midwest Short Course season at the Cradon Finale, which placed him 2nd in the points championship
The single event was held on Crandon's short course, known for both its high speeds and technical nature. The race started in a three-row, land-rush configuration and Chaney's Can-Am Maverick X3 was fast from the get-go. He took the holeshot and spent the rest of the race running away from the field. He ended up leading every lap, leading a Can-Am 1-2-3 on the podium.
"It was pretty uneventful," explained Chaney. "I cruised and made sure to keep my car together. The car did really well and with an all-Can-Am podium it showed that the Maverick X3 is the go-to SXS for short course."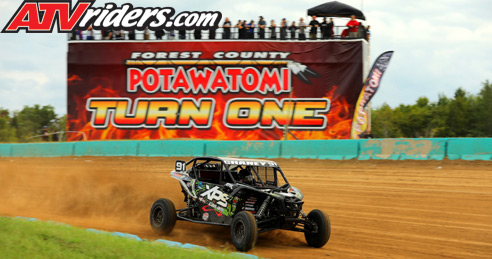 #91 Kyle Chaney
Perfect track conditions suited everyone in the field, but Chaney's Maxxis tires made the difference for him. Running the outside line proved to be the fastest way around and Chaney's Maxxis tires gave him the consistent grip he needed to stay out front.
"The Maxxis tires worked really well, especially in the faster lines on the outside," said Chaney. "The Maxxis tires always work. They work here and they work everywhere. That's why I run them. It doesn't matter if it rains or if it's dry, the Maxxis tires always work well."
#91 Kyle Chaney grabbed the Pro Mod Holeshot on Saturday & lead from start to finish to secure to the win
Chaney won more races this year than any other Pro Mod driver. Due to the series announcing its schedule late, Chaney had to build the car so it could compete on both the West Coast and the Midwest and that led to mechanical issues at the first two rounds.
"Because of the way the offseason went, we had to build the car so it would work in both series and that set us back at the first two races," said Chaney. "The champion didn't have any problems and that's what it takes to win championships; being consistent."
Though they compete on the track, in the pits each Can-Am team helps out their fellow Can-Am competitors. Chaney was happy to both give and receive assistance during the season.
"This is a big team effort and every Can-Am team helps each other out," said Chaney. "My team did a great job this year."
Chaney is already eyeing 2019 and is making plans to again compete in the Midwest Short Course League.
Kyle Chaney 2018 Sponsors:
Can-Am Off-Road, Maxxis Tires, CT Race Worx, XPS Lubricants, FOX, DWT Racing, Factory UTV, Ballistic Performance Components LLC, Bell Powersports, SCOTT Sports, The Tire Ball Company (TireBalls), Rival Motorsports, EVO Powersports, SSI Decals, Beard Seats, DP Brakes, STM Powersports, MPI Wheels, Gates belts, Addict Racing Engines, Millennium technology's, NSK Bearings, Keller Ball Joints