Monroe, NC (8/15/2018) - Father-and-son driving team Chris and Payton Mills enjoyed the high speeds at Bark River International Raceway as they put in competitive runs in their Mills3 Yamaha YXZ 1000R UTVs. Bad luck, however, didn't bode well for the team.
The doubleheader race was held on Bark River's fast and technical track. The facility in Michigan's Upper Peninsula is a favorite of both the Mills and Chris Mills set the pace early as he put in his best career qualifying effort for the Pro Stock race.
"The car was good all weekend, we just didn't get the results we wanted to," said Mills. "Bark River is one of my favorite tracks. The conditions were great and I loved the high speed."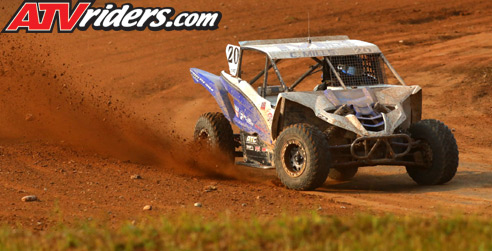 Mills3 Racing's Chris Mills
Along with loamy soil, as racing progressed through the weekend, rocks began appearing on the track surface, causing tire and wheel problems for many competitors. The Mills are running Fuel Wheels and Tires and they had no issues all weekend.
"The Fuel Tires work great in every situation," said Mills. "We saw a lot of flats this weekend, but we didn't have any. Our Fuel Wheels and Tires have been flawless this season."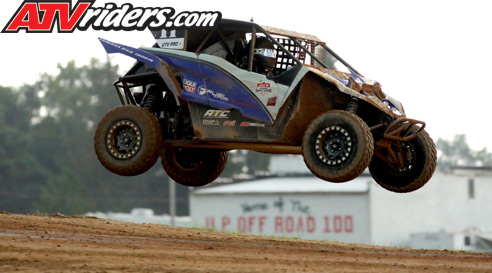 Mills3 Racing's Payton Mills
Payton Mills started 16th in Saturday's Pro Modified race. He was making his way through the field when an engine issue ended his weekend early.
"Things just didn't work out the way we wanted to this weekend," said Mills. "I was working my way up when we had a coolant line break and the head gasket failed. So that ended my weekend. I love this track, though. I love the speed here."
The Mills family was humbled when they were presented with the newest edition of ATV & SXS Insider. The leading powersports publication ran a two-page feature detailing the Mills family and the hard work they are putting into their racing program.
"It was a great surprise to be featured," said Payton Mills. "It was pretty emotional, actually because my dad and I put so much into this. We are so blessed to have a great group of sponsors and a supportive family. We couldn't do it without them."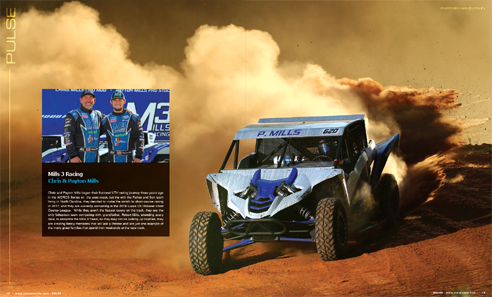 Mills3 Racing's Chris & Payton Mills Featured in ATV & SXS Insider
Chris Mills was equally emotional. The Mills3 moniker comes from the three generations of the Mills family involved in the program. For the Mills, family and racing go together.
"That story humbled me," said Chris Mills. "It's very special to us. We're making memories here."
Speaking of family, the entire Mills clan is scheduled to be at the season finale at Crandon International Raceway. The race has always been special to the Mills family. Unfortunately, team mechanic Dan Duray won't be able to attend the race.
"There is no substitute for the fall race at Crandon," said Chris Mills. "We'll get our cars buttoned up and we'll be ready to go. Dan Duray has no idea how important he is for us. We'll definitely miss him at Crandon."
The Mills3 team is already preparing for a strong finish to the 2018 Lucas Oil Midwest Short Course League season. The season finale is scheduled for August 31-September 1 in Crandon, WI.
Special Thanks to Mills3 Racing Sponsors:
Fuel Off Road, Liqui Moly, Powersports1, ATVRiders.com, Studio 10 Graphics, All Terrain Communication, Rugged Radios, Beyond Redline, Owen Motorsports, Risq Threads, K1 Racegear, Greaves Motorsports, FTI Suspension, CPS Trucking, Yamaha, RevUp Graphics, WebCams, Pearson Archery