Corona, CA (8/16/2018) - Multitool USA Racing will run two Polaris RZR XP 1000s during the Vegas to Reno Best in the Desert race. The team is competing in the UTV Production class during the 550-mile desert classic.
Joe Bolton and his son Austin, with co-drivers Mark Vanscourt and Troy Vanscourt will drive the #1957 car. The second car, #1956, will be piloted by Dana Jones and Steve Buckley with Kevin Heath and WORCS standout racer Randy Nix handling navigator duties. Chris Finley is crew chief for the team.
Bolton will be driving a newly constructed four-seat RZR built by Madigan Motorsports. The team will continue to receive primary sponsorship from Multitool USA, as well as Walker Evans and ITP Tires.
"We went testing with Walker Evans last week and the new car runs nicely," said Bolton. "We have the suspension dialed in. We've run three races on the ITP Ultra Cross tires and haven't had one flat. That's almost 4,000 miles in a row."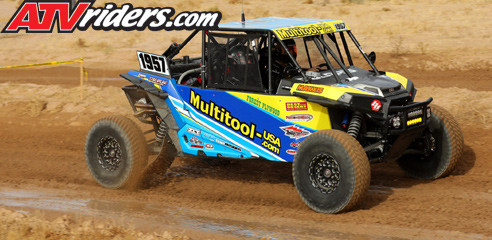 Multitool USA's BITD Pro Production UTV
This marks the first full season for the team in UTV racing. However, Bolton has decades of desert racing experience on motorcycles going back to the 1980s. He is using that experience to his advantage.
"Our team has competed in over 200 off road races in Mexico and BITD, mostly on motorcycles," said Bolton. "We've had wins and class championships over the years so we're using our experience to transfer over the UTV class. I ran my first race here on a bike in 1985, but this is my first Vegas to Reno UTV race."
The team's RZRs are starting 29th and 31st for the race. While this would seem to be a disadvantage, with the race's length, it actually will likely work in the team's favor. Staying out of trouble and consistency wins endurance races, not starting position and overall speed.
"We don't have the best starting positions, but it's a long race," explained Bolton. "The reality is that you only have to pass one car every half and hour. So we're planning to stay consistent all day and that should put us in a good position at the end."
Bolton and his Multitool USA team will be charging hard and looking for success when the Vegas to Reno race starts in Beatty, NV on Friday, August 17. UTV staging starts at 8:45 a.m. PDT with Pro classes taking the green flag at 10 a.m.
Austin Bolton's 2018 Sponsors:
Multitool-USA, Maxxis, Walker Evans Racing, PCI Race Radios, OMF Performance, Necksgen, ICO, DP Brakes, Stream line, Trinity, Alba racing