Nine6Nine Motorsports' Logan Stanfield Third in Pro-Am Debut, Earns One of Five Team Podiums
Nine6Nine Red Bud MX ATV Motocross Race Report
McKenzie, TN (7/25/2018) – Nine6Nine Motorsports' Logan Stanfield finished third in his debut in the Pro Am class, and teammates Cole Wuellenweber, Alan Myers, and Zack Decker scored podium finishes during the AMA ATV Motocross National Championship races. The events were held at RedBud MX in Buchanan, MI.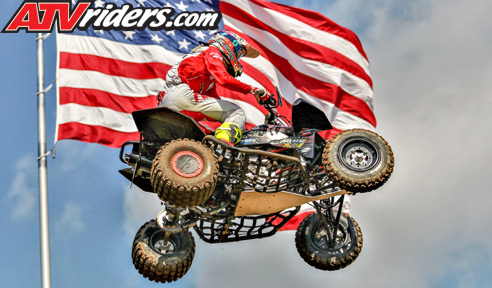 #55 Logan Stanfield Scored a Podium finish in his Pro-Am Debut
After clinching the 450 A title at the last race, Stanfield elected to step up to Pro Am. He went 3-3 in his debut in the class, finishing third overall. In Open Pro Sport, he finished second overall and is now in a numerical tie for first in points.
"I was a little nervous and came last at the start of the first Pro Am moto, but I picked up my pace," said Stanfield. "I got more comfortable in the second moto, got a decent start and got another third. I was really happy with the podium and I didn't want to make any mistakes. I was super pumped. I've been working super hard with Travis."
Rain throughout the weekend made for rough going on track. Stanfield's Walsh Racecraft bike with Elka Suspension and Maxxis Tires, however, withstood the conditions and helped Stanfield earn the two podiums.
"The Walsh bike was awesome," said Stanfield. "It was gnarly rough from all of the rain, so the Elka Suspension worked perfectly and got me through the rollers. My Maxxis tires were hooking up."
#70 Cole Wuellenweber finished third in 450 C at Red Bud MX
Fresh off sewing up the Open C title, Wuellenweber set his sights on the 450 C championship. Wuellenweber finished third overall in the class, driving through the field in both motos to go 2-6. He's now second in 450 C points and has to win the final round to clinch the title.
"I had difficulties with starts, but I managed to get two good finishes," said Wuellenweber. "I had to pass a lot of really fast guys out there, but the Maxxis Tires were hooking up great in the mud and my Elka Shocks were eating up the track."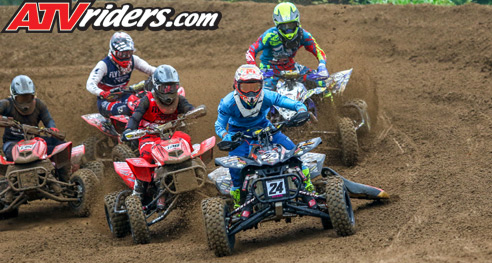 #24 Alan Myers lost his seat at the start, but he pushed thru to win the race without a seat
Myers recovered from a back injury sustained at the last race to go 1-2 in Pro Am to secure a second-place overall finish. In the first moto, he snagged the holeshot, but lost his seat in the first turn. Despite having to stand the entire race, he finished a runaway first. In the second moto, Myers recovered from a difficult first lap to finish second.
"We had originally planned just to roll the track for points, but I was feeling good on Sunday so I decided to race," said Myers. "I led every lap of the first moto. In the second moto, I had difficulties on the first lap, but I calmed it down a little bit and let everyone settle in. I took second, but the leader was just too far ahead. I was super excited. I didn't even expect to ride, so to come out with a 1-2 is huge."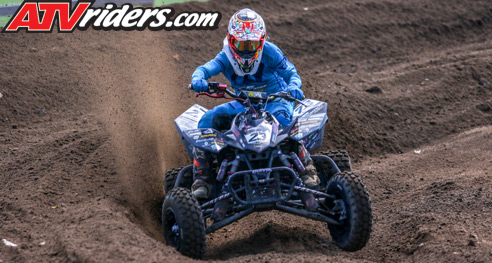 #23 Zack Decker made his return to racing at Red Bud MX
Decker also returned from injury and made a statement by finishing on the podium in the Youth All Star class. Though he crashed in practice in Friday, Decker came back strong and scored a 3-3 in the motos to finish third overall. He plans on running both Schoolboy Sr. and Youth All Stars in the season finale at Loretta's.
"It felt pretty good to get back on track," said Decker. "The bike worked great. The Walsh/Maxxis/ Elka setup was on point all weekend. I'm heading into Loretta's to try to stay on four wheels and do better than I did this weekend."
Nine6Nine Motorsports will be ready to finish out their dominant ATV Motocross season as the series stages it's 2018 finale at the Loretta Lynn Ranch in Hurricane Mills, TN. The races are scheduled for August 11-12.
2018 Nine6Nine Race Team Sponsors
Maxxis, Elka, Barkers, Goldspeed, FLY Racing, Hinson, Suomy, Rath, Galfer, SSI, BCC skids, Impact Solutions, Works Connection, Scott, Atlas, AMPed, Pro Taper, Impact Canopy, Philadelphia Cycle Center, Aces Piizza, TMM, Napa, Finishing Edge, Blue's Landing, Austin's Wish, ATVriders.com