Tempe, AZ (9/20/2018) - Pro Motorsports' Matt Hancock dominated the WORCS Pro Stock SXS race at Glen Helen Raceway, turning in his first victory of the season. Hancock was driving a Polaris RZR in the six-lap event.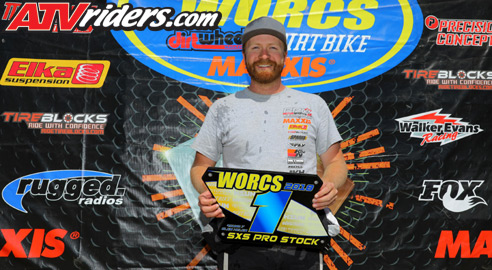 Pro Motorsports' Matt Hancock claimed his first WORCS win of the season in the Pro Stock SXS class at Glen Helen
Hancock snagged the holeshot at the beginning of the race and immediately began putting down fast laps. After negotiating lapped traffic for the last three laps, he came home with the wire-to-wire victory.
"I've had pretty bad luck here before, so being able to get the win here last year and get the win again today was awesome," said Hancock. "I had a great start, which was huge. We didn't have any room for mistakes and I was able to push until the end. My car took everything like a champ."
Hancock claimed yet another holeshot on his Maxxis Big Horn 2.0 tires and clutching by Sparks Performance Products. The 28" tires, combined with Elka shocks helped him easily negotiate the muddy and hard-packed surface.
"The ruts got deep and these things just keep hooking up," said Hancock. "I got off to a great start with that Sparks clutch tuning. I can't say enough about Elka suspension. Their shocks are the best I've ever used. As the track gets rougher, we get faster. Doug Roll with Roll Design puts in a lot of effort and he helps us get this stuff dialed in. It showed today. The track was pretty rough and we just kept it pinned."
The conditions caused quite a few cars to retire early with mechanical issues. Hancock was especially proud of the way his RCV Performance axles held up.
"We run the best equipment, and we have to, to run the pace we do anymore," said Hancock. "RCV Performance makes really strong axles. It's great to get that podium for them to show how strong their stuff is. They hold together so you can keep on going."
The victory came at the perfect time for Hancock as it places him third in points, still well within range of the title. Hancock is now 23 points behind the leader heading into the final three races.
Hancock will return to the WORCS Series when it visits Mesquite MX in Nevada October 5-7.
2018 Pro Motorsports Racing Team Sponsors:
Maxxis Tires, Pro Motorsports, LKH Farming, Elka Suspension, Tireblocks, Polaris, ROLL Design, SPARKS Performance, FLY Racing, K&N Filters, Method Wheels, Polaris Lubricants, Odyssey Battery, ATVRiders.com, Finish Line Signs, VisionX lights, RCV Axles, DragonFire Racing, Butter Supply Co.