Joel Hetrick Extends Points Lead at Red Bud MX
Rockford Fosgate / TiLube / Honda ATV Team Report
Salisbury, NC (7/26/2018) - Rockford Fosgate / TiLube / Honda's Joel Hetrick finished second overall during the AMA Pro ATV Motocross National Championship race at RedBud MX in Buchanan, MI. The podium effort allowed him to extend his lead in the championship to 10 points. Teammate Haedyn Mickelson equaled his best finish of eighth in the Pro race and he is now at the top of the rookie of the year standings.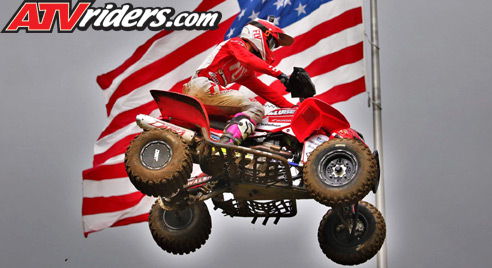 Rockford Fosgate/TiLube/Honda's Joel Hetrick goes 2-2 at Red Bud MX to extend his points lead to 10 points heading into the final round
Rain on and off all weekend challenged Hetrick. After winning the Top Qualifier Award, Hetrick snagged the holeshot in the first moto and finished second. At the beginning of the second moto, heavy rain hit the track. After contact with another rider, Hetrick made it back up to second, but with standing water on the track, he wisely stayed in position and didn't attempt a challenge on the leader.
"It was so wet with water standing everywhere and I didn't want to chance it, so I stayed in second," said Hetrick. "I just wanted to finish the race. I rode smart and I maintained."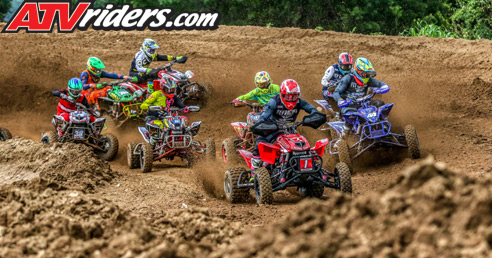 Rockford Fosgate/TiLube/Honda's Joel Hetrick grabbed the holeshot
RedBud is notorious for its rough conditions in the rain. Hetrick navigated the deep ruts with help from his Maxxis Tires and Elka Suspension tuned by Jay Gobel.
"Jay Gobel with Impact Solutions had the Elka Suspension working great," said Hetrick. "It rained all weekend and that tore up the RedBud track. It quickly deteriorates in the rain and became one of the gnarliest tracks yet."
Rockford Fosgate/TiLube/Honda's Joel Hetrick
Hetrick leaves RedBud with a 10-point lead in the championship with just one race left. He needs to finish third in both motos at the final race to secure his second consecutive championship. Hetrick is making sure he does everything to prepare for the next race at the Loretta Lynn Ranch.
"The main goal of the weekend was to try to maintain or gain a point or two and we did that," said Hetrick. "We'll keep training and riding. I'm racing for the championship right now. It's still tight and we have a lot of racing left so it's going to be interesting."
Mickelson made some early passes in the first moto, and he finished 10th. In the second moto, he navigated the mud and rain to finish eighth and score an eighth overall, equaling his best finish, earned at the last event.
"It was cool to be able to match my best finish; we're showing some consistency," said Mickelson. "The track was really rough and that made it hard on us, and the second moto was a mudder. My plan was to try not to make any mistakes and second moto went really well given the conditions."
Hetrick and Mickelson will be back in action when the Rockford Fosgate/TiLube/Honda team heads to season finale at the Loretta Lynn Ranch in Hurricane Mills, TN August 11-12.