Root River Racing's Red Bed Pro ATV Report
Root River Racing Pro ATV MX Race Report
La Crosse, WI (7/26/2018) - Root River Racing's Pro ATV Motocross rider Dylan Tremellen fought rainy and rough conditions and finished 11th in the AMA Pro ATV Motocross National Championship race at RedBud MX in Buchanan, MI. Tremellen's brother Logan just practiced during the event and sat out the races.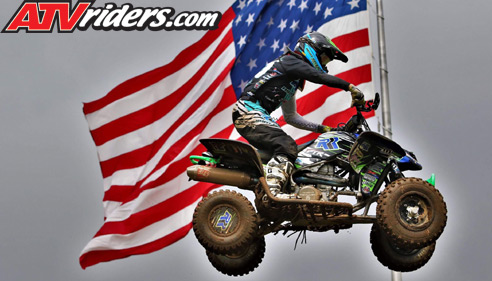 Root River Racing's Dylan Tremellen
Dylan Tremellen finished 11th in the first moto after getting the last gate pick at the start. In the second moto, heavy rain hit the track at the gate drop, and Tremellen survived the carnage-filled race to finish ninth.
"Unfortunately it wasn't the best weekend for me," said Tremellen. "It wasn't a very fun track with all of the mud and I couldn't make too many passes. We were safe and we didn't hit any fences this time, so that's a step in the right direction. The Motowoz shocks worked great in the brutal conditions and I rode as well as I could in the mud. Hopefully we'll have better results at Loretta's and we'll finish the season strong."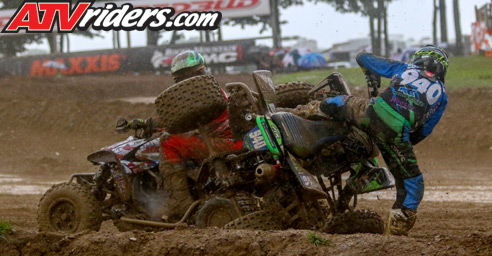 Dylan Tremellen & Sam Rowe collided at the start of Moto 2 sending the pair to the back of the pack
Dylan Tremellen is now just one point out of the top 10 in the title chase. He is looking for a good finish at the season finale next month with the goal of moving up several positions.
"We're super close to the top ten in points," said Tremellen. "If we get a good finish at Loretta's, we'll definitely finish in the top ten."
Logan Tremellen, still fresh off an injury sustained earlier this season, saw the forecast and made the smart move to sit out the races. Riding a brand new bike, He didn't want to chance re-injuring himself or breaking the quad.
"He was out for the whole year and only raced once," said Dylan Tremellen. "So he didn't think it was smart to go out in the rain an destroy a brand new race bike."
The Tremellens and the rest of the Root River team will back on track at the season finale race at the Loretta Lynn Ranch in Hurricane Mills, TN August 11-12.