Root River Racing's Red Budy Youth ATV Report
Root River Racing ATV MX Race Report
La Crosse, WI (7/26/2018) - Root River Racing's youth riders Aaron Salinas and Tyler Svob both had productive weekends during the AMA ATV Motocross National Championship races at RedBud MX in Buchanan, MI. Salinas earned a pair of fourth-place finishes, while Svob scored two top-tens.
Both riders are competing on 250cc Hondas built by Rage ATV on JB Racing frames. They feature Motowoz shocks and Hoosier tires.
Root River Racing's Aarnon Salinas
Salinas stepped up his efforts at RedBud. He went 4-4 in Youth All Stars and was 3-5 in Schoolboy Sr. He now sits fourth in points in both championships and hopes to finish out the season with strong finishes at Loretta's next month.
"Saturday, I had a great pair of motos and on Sunday, I made a few mistakes, but still came out fourth overall in both classes," said Salinas. "I had a good time, rode smart and tried to minimize mistakes. My machine worked great all weekend. We've been consistent all season and we hope to finish strong."
Salinas is in his first season on the larger displacement 250cc Hondas. He said the transition was tough: "Getting adjusted to the 250 was pretty difficult because there are a lot of fast guys out there and competition is tight."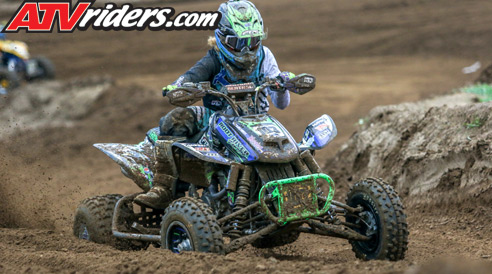 Root River Racing's Tyler Svob
Svob finished 10th overall in 250 mod and was eighth in Schoolboy Sr. With rain hitting the track both days, he was in his element. Unlike many racers, Svob enjoys the rain and the mud.
"The motos were pretty muddy, but the track officials kept on top of it so it wasn't too bad," said Svob. "My Rage motor had a lot of power and my Hoosier Tires hooked up really well. I always do a lot better in the rain in the mud. I want to finish strong at Loretta's and maybe even get on the podium."
Salinas and Svob will be back in action when the ATV Motocross Series finishes out the 2018 season at the Loretta Lynn Ranch in Hurricane Mills, TN August 11-12.