Chandler, AZ (7/27/2018) - Weller Racing's Brock Heger and Corry Weller dominated their respective UTV races during the Lucas Oil Off Road Racing Series event at Wild West Motorsports Park in Sparks, NV. Jason Weller and Paul O'Brien added to the team's tally with two podiums.
Heger led from the pole in the Production 1000 UTV race in his Yamaha and was never headed, winning the muddy and slick race. It marked Heger's third consecutive victory and his fifth of the season as he continued to extend his points lead.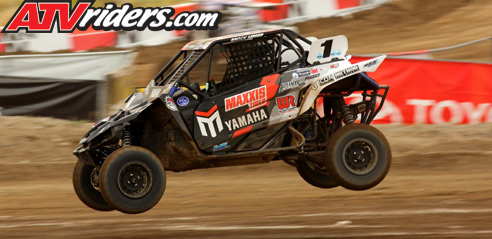 Weller Racing's Brock Heger claimed yet another win to extend his points lead in the Pro Production UTV class
"I knew I had to get the jump and come out of turn one with the lead because it was going to come down to whomever had the lightest car was going to win," said Heger. "The Weller Racing Yamaha was super fast. I'm pumped the Weller team is doing awesome this year because the competition is stacked. There are so many cars and everyone is so fast, so that's what makes it fun."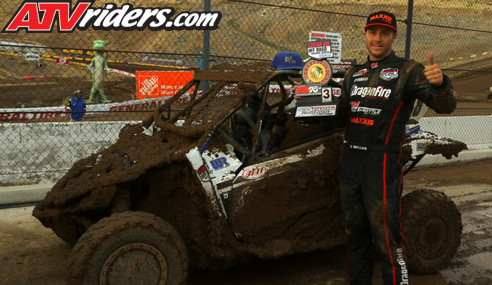 Weller Racing's Jason Weller scored a Podium finish in the Pro Production UTV class in his Yamaha YXZ1000R
Jason Weller came from 10th to finish third in the Production 1000 race. After having issues getting a clean lap in qualifying, Weller ran a conservative pace for the first two laps before realizing he was gaining on the field. He ran hard from there to score the podium and cement his second spot in the title chase.
"I wanted to keep my spot in points so I took it easy for the first few laps," said Weller. "Then I noticed my car was feeling faster than the guys in front of me. So I started picking guys off and made it to third. Corry really helped me today. She gave me a bunch of towels to wipe my face shield off during the race and that was extremely helpful."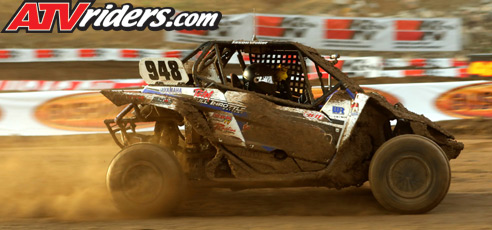 Jason Weller utilized the towels that Corry placed in the Yamaha before the race to clean his face shield
Jason Weller credited DragonFire Racing for its support of the Weller Racing team. The company makes a full range of race-proven UTV parts, many of which the team uses on their cars.
"We run their bumpers, seat belts, steering wheel adapters, and they make tons of other stuff for UTVs," said Weller. "They make great products that help us stay competitive."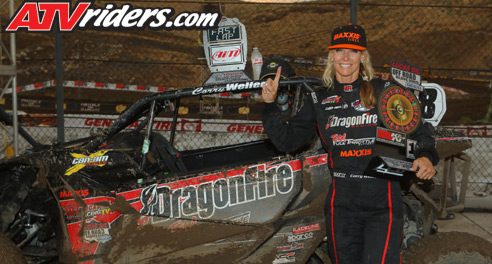 Weller Racing's Corry Weller took the Turbo UTV Win to extend her points lead
Corry Weller also recorded a wire-to-wire victory in the Production Turbo race. Driving her Can-Am Maverick X3, Weller extended her lead in points with her fourth victory of the season.
"I learned from the Missouri mud race that staying up front was important," said Weller. "I just tried to capitalize on starting on the pole and not make any mistakes. I thought it was going to be a close race, but we made a really good change for the prior to the start and it paid off."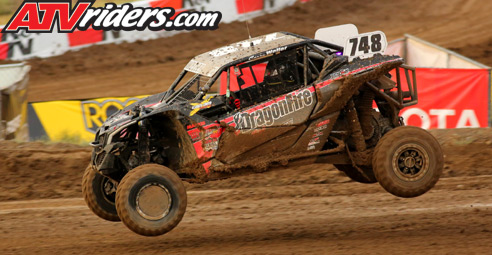 #748 Corry Weller
Weller relied on the durability of her Can-Am to get her to the finish. Running Maxxis Ceros tires also helped her get through the muddy conditions.
"This Can-Am is a beast," said Weller. "With the mud, I realized how much I can put the car through and it just holds up. The power is always there and it takes a beating. The Maxxis tires were super competitive in the mud. I run the Ceros all the time, anyway, but it was really exciting to see a lot of people that don't run the Ceros use them here."
Paul O'Brien finished second in the Production Turbo race and remains second in points. Fighting off visibility issues, O'Brien ran a mistake-free race.
"We're learning a lot about the car and we're staying close in points," said O'Brien. "It's going to be a battle down to the end. I got into the class to do well and the goal this year is the championship."
The Weller Racing team will be back in action as series next heads to Utah Motorsports Campus in Tooele, UT. The doubleheader event is scheduled for August 24-25.
2018 Weller Racing Sponsors:
Yamaha Motor USA, Can Am/BRP, Dragonfire Racing, Full Throttle Battery, Demon Powersports, Maxxis Tires, Lucas Oil Racing TV, Axia Alloys, PAC Racing Springs, Raceline Wheels, Factory UTV, SPARCO USA, Lucas Oil Racing Products, AIM Sports, Tubeworks, Action Sports Canopies, Lazer Star Lights, AZ Drive Shaft, XTC Powersports, Weller Racing, LLC