Sherwood, WI (9/10/2018) - Countryside Auto Transport's Zac Zakowski had a goal this year to finish in the top five in points in the Lucas Oil Midwest Short Course League Pro Modified SXS class. After finishing seventh in the season finale at Crandon International Off-Road Raceway, Zakowski proclaimed that it is mission accomplished.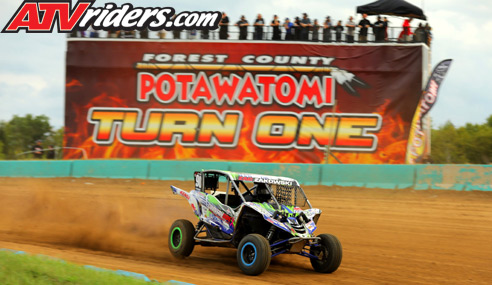 #90 Zac Zakowski finishes out the season Top 5 in the Pro Mod Class
After starting 12th, Zakowski fell back during the three-row, land-rush start, but quickly passed several cars in the gravel pit turn. From there, he ran a competitive pace to finish seventh in his Yamaha YXZ 1000R.
"We fell back at the start and I passed six cars in the gravel pit turn," said Zakowski. "Our goal was to stay in the top five in points and we did that. We had a fun weekend and I enjoyed the race."
#90 Zac Zakowski
As part of the event, Zakowski brought out his popular breast cancer awareness shirts and they were definitely a hit with fans and competitors. All proceeds go to breast cancer awareness.
"We had our breast cancer shirts here and we donate every penny of the $10 price," said Zakowski. "People have been buying them left and right. It's nice to raise money for breast cancer awareness."
Apex Moto Marketing is currently working on an online store where anyone can buy the shirts. The site is scheduled to go live in October.
"Apex Moto Marketing is a great help," said Zakowski. "They do all of our social media and they are designing our web site right now. They are also working on a special web store to sell our breast cancer awareness shirts, which will be launched in October."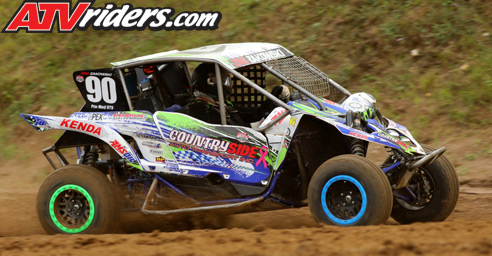 #90 Zac Zakowski
Zakowski is the only Pro driver on the tour running Kenda tires. The factory support rig was at Crandon and gave Zakowski a special set of custom grooved Kongur tires. They were definitely a huge factor in Zakowski's success this year.
"I think we're the only guy out there on Kenda tires, which is cool because we've always been one of the only Kenda teams out there," said Zakowski. "Honestly, they were the best they've ever been. They handled great and I was able to slide around and have a loose car, which I like. Hopefully more people will see how great they work and they'll make the switch."
Fox Shocks were also a huge part of his success. Zakowski is pleased to announce that Fox will expand its backing next season.
Racing is a family endeavor for Zakowski. His crew is mostly made up of family members and racing allows them to have fun together.
"I have a couple friends that help out, but it really is a family program," said Zakowski. "Without them, I would be out here doing it myself so it's great. It keeps us all together, doing something crazy."
Zakowski is already in the process of building a new car for 2019. Look for him to be a strong competitor next year's Midwest Short Course League events.
Zac Zakowski 2018 Sponsors:
Countryside Auto Transport, Zakowski Motorsports, Johnny Greaves Motorsports, Amsoil, Kenda Tires, Straightline Performance, Spider Graphix, Apex Moto Marketing, Powersports 1, Evans Coolant, STM Powersports, DP Brakes, TB Performance