Sherwood, WI (8/29/2018) - Countryside Auto Transport's Zac Zakowski is ready to shake off bad luck experienced in the most recent round at Bark River and looks to finish strong in the Lucas Oil Midwest Short Course season finale at Crandon International Off-Road Raceway. But no matter how he does on track, Zakowski will still be a winner during the weekend as he brings his popular breast cancer awareness T-shirt fundraising program to the racing weekend.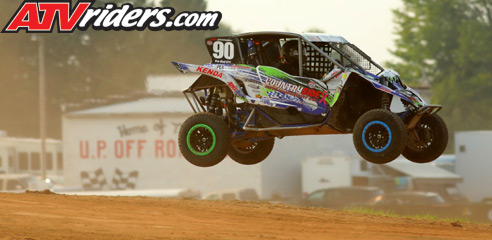 #90 Zac Zakowski
Zakowski is celebrating his eighth year of raising money for breast cancer research and to help families dealing with the disease. Zakowski's mother is a breast cancer survivor and her recovery encouraged him to organize the fundraiser. The T-shirts have become legendary in the off-road racing community.
"When we started racing in GNCC, there wasn't much going on during the month of October for breast cancer awareness, so we started T-shirt sales and we've raised $20,000 for the last four years in a row," said Zakowski. "At the end of October, we donate all of the money to hand-selected foundations chosen by my mom."
Though the race is in September, Zakowski thought it would be fitting to kick off the benefit at Crandon. The Crandon World Cup, one of the largest events in short course racing, is being held on the same weekend. Zakowski will then bring the fundraiser to the Ironman GNCC October 27, where he will unveil a brand new T-shirt design. He is also working on an ecommerce store to help support the cause year-round.
"We'll have all of the popular and funny shirts at Crandon, and we're also working on a new shirt that we'll have at Ironman," said Zakowski. "We've only done them at the events in the past, so the web site will be a nice addition and should definitely help us raise more money."
Going into the Crandon race, Zakowski is looking to finish in the top five in points. With the TORC Series folding late in the off-season and the late announcement of the Midwest Short Course series, Zakowski took a conservative approach to the 2018 short course season.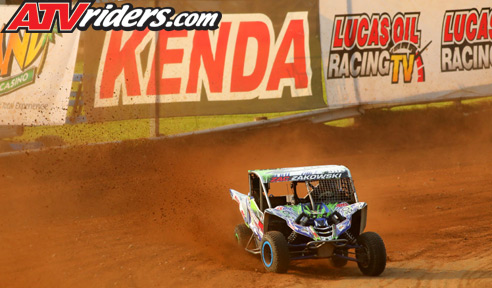 #90 Zac Zakowski
"We're definitely running a conservative program this year," said Zakowski. "We made the choice to run the same car we ran last year, using what we have while the series is in this odd position. Obviously, we wanted to compete, but our primary focus is next year."
Look for Zakowski to be competitive, and buy a shirt to support breast cancer awareness, during the Midwest Short Course season finale August 31-September 1. Zakowski will also be competing in the Crandon World Cup on September 2.
Zac Zakowski 2018 Sponsors:
Countryside Auto Transport, Zakowski Motorsports, Johnny Greaves Motorsports, Amsoil, Kenda Tires, Straightline Performance, Spider Graphix, Apex Moto Marketing, Powersports 1, Evans Coolant, STM Powersports, DP Brakes, TB Performance