Sherwood, WI (7/21/2018) - Countryside Auto Transport's Zac Zakowski scored a sixth- and a fifth-place finish during the Lucas Oil Midwest Short Course League SXS Pro Modified events at ERX Motor Park in Elk River, MN. The results during the two-race weekend propelled him to fifth in points.
#90 Zac Zakowski moves into top five in points
Zakowski qualified his Yamaha YXZ 1000R eighth for Friday's race and did his best to make up ground in what became a wreck fest. Several caution flags resulted in officials shortening the race from 12 laps to just six. Despite the lack of time, Zakowski finished sixth.
"Starting on the fifth row is not my preferred starting position, but it worked out," said Zakowski. "We had a clean race, but there were just so many wrecks that we kept having to restart, so it's hard to move up with the shortened race time."
Zakowski qualified sixth for Saturday's race. He made it all the way up to fourth before falling back to seventh on a restart. He rebounded to finish fifth
"I pushed it harder in qualifying and the race went really well," said Zakowski. "There was a lot of action with a couple of cars flipping over, people getting black flagged, and just a lot of back-and-forth action."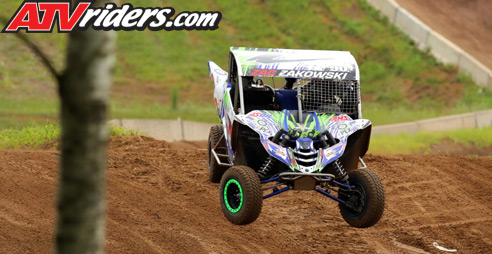 #90 Zac Zakowski
The track's whoops section challenged many in the field. With suspension setup by Greaves Motorsports, Zakowski took the section with ease.
"We had one of the faster cars through the whoops section," explained Zakowski. "A lot of people struggled in that section, but it's where I felt most comfortable. I have to thank Johnny Greaves and his crew for that. They do all of my suspension and the car handled great."
Zakowski was again running Kenda's Kongur tires and they gave him the perfect blend of grip and responsiveness on ERX's sandy surface. Temperatures in the high 90s with high humidity didn't faze Zakowski's cooling system due to his Evans Waterless Coolant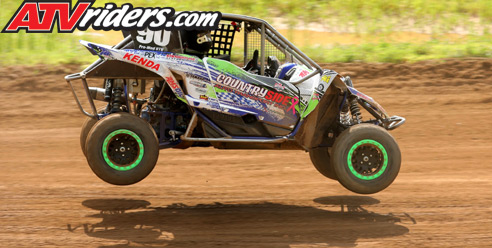 #90 Zac Zakowski
"This was more of a sandy track, and the Kenda Kongurs worked phenomenally," said Zakowski. "This was one of the hottest weekends I can remember and the temperature on the car never even approached the red line. It was nice and cool thanks to the Evans Coolant."
The two solid finishes allowed Zakowski to move up to fifth in points. His goal is to stay in the top five when the series heads to his home track in Bark River, MI.
"I got a third there last year so I'm excited," said Zakowski. "The goal for this year is to stay in the top five in points. Bark River should be good for us."
Zakowski will return to the Midwest Short Course League during at Bark River International Raceway in Michigan. The race is scheduled for August 10-12.
Zac Zakowski 2018 Sponsors:
Countryside Auto Transport, Zakowski Motorsports, Johnny Greaves Motorsports, Amsoil, Kenda Tires, Straightline Performance, Spider Graphix, Apex Moto Marketing, Powersports 1, Evans Coolant, STM Powersports, DP Brakes, TB Performance