Black Bear Hunting with a Can-Am Commander 1000 XT SxS / UTV
GNCC ATV Racer Brandon Sturdivant Takes ATVriders.com Black Bear Hunting
ATV / UTV Hunters Buyers Guide to ATV & UTV Links

Elkins, WV (2/20/2012) - We were super excited when we got the call about another bear hunting trip into the West Virginia Mountains with our good friend and former Pro GNCC ATV Racer, Brandon Sturdivant. The excitement level gets ramped up at just the thought of hearing the hounds let loose on a fresh bear track and the rugged intensity of the Elkins region just adds an element that makes the hunt seem like another place in time.

I was also excited to hear that we would have access to a new 2011 Can-am Commander 1000 XT SxS / UTV on the hunt and that always makes me feel relieved due to the fact we can use the Commander 1000 XT to help during the hunt and if successful, aide in getting a harvested bear out to an awaiting truck much easier then dragging, which is an incredibly labor intensive chore.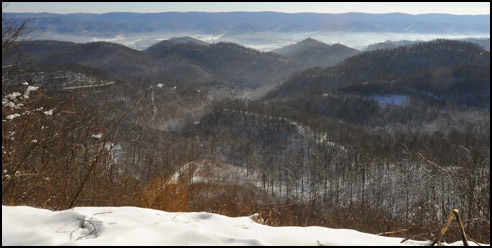 The view on top of the mountain range in Elkins, West Virginia is breathtaking no matter what time of the year it is!
Hunting in general can be summed up by explaining it as a whole lot of boring (in a good way) combined with a few minutes of extreme excitement. The call that a bear had been spotted or a track found can take you from sitting on the side of a logging road to a nerve racking high speed run over icy logging roads only to reach the location and have nothing good to grow on. That's pretty much how the majority of the week went for our hunting group although nearby some reports of success were coming in so we remained hopeful.

Icy logging roads were the only routes that could be used for larger vehicles like trucks. The Can-Am Commander 1000 XT would prove to be handy in the tight brush
The Can-Am Commander 1000 XT was missing in action early in the hunt due to its owner having to work, and I was starting to get a case of feeling rejection as our successes were nil and all we had were good conversation, great food and some serious scenery to view. I really wanted a chance to check out the Commander 1000 XT in use, and see what it had to offer as it was indeed a replacement for the owners Yamaha Rhino, which had an unfortunate issue that left it ablaze a month earlier. Knowing there was no insurance on the Rhino, I felt a bit better knowing at least the owner was pulling in some wages to cover the cost of the new ride.
One topic of the week was that of being laid off which unfortunately was on the rise as the area continues to be sucked into the poor economy. Suddenly, not having a bear to chase or a SxS to play with took a back seat as I absorbed the cold harsh reality so many are facing just trying to make ends meet and my small wishes seemed paltry when compared to others who might not have a job to return to the next day.