Chris Borich Going For Three-in-a-Row at FMF Steele Creek GNCC
GNCC ATV / SxS Racing - Round 3 - Steele Creek GNCC - March 31, 2012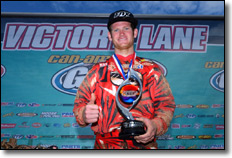 GNCC XC1 Pro ATV Champion Chris Borich plans on continuing his winning streak at Steele Creek GNCC Round 3

Morgantown, WV (3/28/2012) - They don't call him "three-time" for nothing. Maxxis Yoshimura's Chris Borich swept the first two rounds of the 2012 Can-Am Grand National Cross Country Series, and is showing the experience that comes with winning the last three GNCC ATV championships will make him tough to stop throughout the 2012 season.

Borich leads the pack and the point standings heading into round three of the 13-race series-the FMF Steele Creek GNCC-in Morganton, N.C. The Steele Creek Campground hosts a variety of rough and tumble obstacles and often times the track conditions affect the outcome of the intense two-hour races. The 10-12 mile course will feature mud bogs and creek crossings, mixed with rocky hills and the fan-famous Steele Creek bridge, where thousands of spectators gather to see racers battle their way through muddy waters.

This weekend's race could be anyone's win in North Carolina Ballance Racing Yamaha's Walker Fowler, the rookie XC1 pro who many expect to challenge Borich for this year's championship, understands just how rough racing conditions can be after one of the most intense finishes in GNCC history at round two in Georgia. Fowler experienced mechanical issues just a few turns before the finish and had to push his ATV to the checkers to hold onto a podium spot. He was exhausted, but the effort keeps him close to Borich in the series' standings. The rookie still isn't satisfied and will be back to avenge this weekend in North Carolina.

Motoworks/Can-Am's Chris Bithell kept it consistent in the first two rounds with 3-5 finishes, and currently holds the third place position in the point standings over Ballance Racing Yamaha's Taylor Kiser. Kiser came into the Florida opener with a shoulder injury and raced around for a twelfth place finish, scoring valuable points. But once round two came around, Kiser put all efforts in and took second place after an all-out battle with Borich, Fowler, Bithell and McGill. That pack provides a preview of what's to come in terms of race action in round three and beyond.

The XC2 Pro Am division is headed up by Patrick McGuire, who took impressive 1-2 finishes in the first two rounds. McGuire is joined by round two winner, Waynesburg Yamaha/Moto-X-Perts-backed Gabe Phillips, who had mechanical issues in the first round, putting him in fifth overall in the point standings. Other heavy hitters in Pro Am this year are New York's Nathan Thomas, DeRisi Racing's Eric Hoyland and Ohio's Matt Hanna-all within a few points of one another as the season gets underway.

In honor of the March of Dimes mission to work together for stronger, healthier babies, the FMF Steele Creek GNCC will be a purple-themed event this weekend. Racers and spectators can get in on the weekend's fun by wearing purple clothes, riding gear, graphics and decorations. Big-ticket raffles with prizes suitable for both ATV and dirt bike racers will be held as the primary fundraising for the weekend, in addition to a purple podium backdrop that will be signed by the weekend's top finishers and raffled off after the race.

In the GNCC spirit of competition, fun, and spectator involvement, there will be exciting events taking place at the starting line of both the 10 a.m. amateur race and the 1 p.m. pro race on both Saturday and Sunday. All proceeds from this event will go directly to the Foothills Division of the March of Dimes in Conover, N.C. For more information on the March of Dimes, please visit www.marchofdimes.com.

ATVs will compete throughout the day on Saturday, March 31, and dirt bikes will race on Sunday, April 1. Local riders are invited to race the event, as GNCC racing offers classes for riders of all skill and experience levels. The amateur racer entry fee is $40 and riders can sign up at the track. Spectator passes run $15 for the full weekend, with pro pit access and pro autographs at no additional charge.

The track is located at the Steele Creek campground. From Interstate 40 West, take Exit 105 to Highway 181 North 13 Miles.

For more information, check out the official series website at www.GNCCRacing.com or call 304-284-0084.

About GNCC Racing
The Can-Am Grand National Cross Country Series is America's premier off-road racing series. Founded in 1979, the 13-round championship is produced exclusively by Racer Productions. Each event is nationally televised on the Versus Network, and consists of two race days: ATVs and side-by-side machines on Saturday, and motorcycles on Sunday. The grueling three-hour races draw as many as 1,800 riders, making it the largest off-road racing series in the world. For more information, please visit www.gnccracing.com.


122 Vista Del Rio Drive
Morgantown, WV 26508
304-284-0084