GPS Offroad Products' Dillon Zimmerman Third at WORCS Opener
David Flores Wins Pro-Am Class
Las Vegas, NV (1/29/2014) – Following their entry back into the US market last year, Goldspeed Racing Products is looking to make a statement in 2014 and they certainly came out swinging at the opening round of WORCS racing in Taft California.  Goldspeed is supporting a handful of racers at both the amateur and professional level and saw great success throughout the weekend as a number of racers put both their tires and wheels on the podium.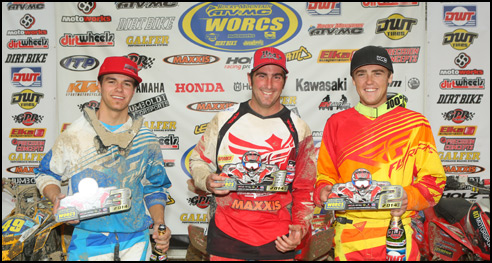 WORCS Racing Pro ATV Podium (left to right)
Dillon Zimmerman (3rd), Beau Baron (1st), Josh Row (2rd)



After a challenging year of transitioning from a factory program to running his own privateer effort, Can-Am backed racer Dillon Zimmerman ended 2013 with a second place finish and has carried that momentum over to 2014.

In the Pro ATV race, Zimmerman got a jump out of the gate and lead the pack about midway up the starting stretch, narrowly missing the holeshot.  Racers would battle severely wet conditions for the first few laps as WORCS officials saturated the track making for poor visibility and difficult terrain.  "I got really bad arm pump for the first few laps," said Zimmerman.  "I was riding behind Collins Webster and Beau managed to get by me but after the first few laps, the arm pump started to wear off and I was able to just ride my own race."

Zimmerman passed Webster and charged hard all the way to the finish earning a 3rd place finish.  "We raced after the bikes so the track was really rough but my Goldspeed tires were hooking up like crazy.  JRi shocks put a lot into my program last year and it showed.  I knew my shocks were working better than my competitors."

Behind Zimmerman, in the Pro-Am class, fellow Goldspeed racer David Flores put on quite a show, pulling the holeshot but blowing the first turn after braking too late.  Flores charged hard and managed to pass back up to 2nd place by the end of lap one but his woes were far from over.  After regaining the lead on lap two, Flores managed to put distance between himself and second place however shortly before pitting, his seat managed to come loose.   "I ended up doing a whole lap without my seat," said Flores.  "Luckily I needed to pit so it gave me time to get a new seat and let my arms and legs rest."

Flores would maintain his lead however he continued to struggle with his seat.  Losing precious seconds every time he stopped to fix it allowed second place to inch closer.  Finally deciding to charge to the Finish, Flores hoped his seat would hold which it did, allowing him to claim his first Pro-Am overall of the season.

In his debut appearance, Pro-Am rookie Alex Ortiz managed to grab the third spot on the podium, working his way back from a 6th place start.

In amateur action, Grant Mitchell took first place in the Open A class and Chandler Waxman finished behind Flores in Production A.  Husband and wife duo Rick and Donna Elsworth scored two wins each on the weekend; 30+ and 50+ for Rick and Sport 15-29 A and Women's A for Donna.

"We're thrilled by the number of racers that have made the switch to Goldpeed Racing Products for 2014," said Ty Zimmerman.  "We've had a number of racers come to us from other wheel manufacturers which we believe is a testament to their faith in the Goldspeed wheel."

WORCS racing returns to Primm Nevada February 7-9 which is always one of the more popular stops for the series and Goldspeed racers hope to improve on this already great start to the season. 

https://www.facebook.com/GPSOffroadProducts
https://www.facebook.com/JRiShocks

About GPS Offroad Products
GPS Offroad Products is a wholesale tire and wheel retailer. As the exclusive US distributor for Goldspeed Racing Products as well as the manufacturer of SUN F ATV and UTV tires, GPS Offroad Products provides quality, offroad, racing and recreational tires and wheels at an industry low price.