Bakersfield, CA - (7/16/2014) Maxxis / H&M Motorsports' Beau Baron took another Pro ATV win at round number six of the 2014 WORCS series in Cedar City, UT while teammate David Haagsma claimed his third win of the season in the SxS 1000 class.
This was the first time for the series to head to the Iron Mine Motocross Park, where the weather was hot and there was plenty of dust to go along with it. The track was a nice mix of motocross, and off-road style terrain.
The course seemed to suit Beau Baron well as he was third off the start in the ATV Pro main event and soon made the pass for second. From there Baron started to chase down the leader. Baron took over the lead in the first lap and recorded the fastest lap time of the race in lap two with a time of 08:43.623.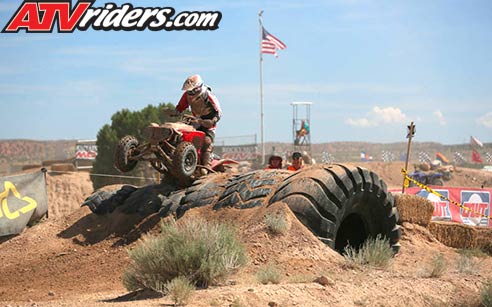 Beau Baron earned his fourth WORCS Pro ATV Win of the season at Iron Mine MX
Baron held his lead for several laps until he had to stop in the pits. Once Baron pulled out of the pits he started to gain ground and took back the lead in the following lap when the leader stopped to pit. Once Baron got back out front there was no stopping him, and he took his lead all the way to the checkered flag for his fourth win of the season.
"I had a good start in third and was behind Josh Row and he hesitated on a jump and I was able to pass him, then I caught Robbie Mitchell when he bobbled in a corner and took the lead. Then I pulled into the pits and it took longer than I wanted and Row got by me again. I tried to pass him and almost crashed, but I got the lead back when he stopped to pit," said Baron.
David Haagsma didn't get the start he was looking for, but was still running in the number five spot. Haagsma tried his best to make his way forward, but a mechanical issue made it difficult. "I was trying to chase them down but my quad wouldn't go into fifth gear so it was pretty tough. I did catch Robbie Mitchell and got around him and was able to finish fourth," said Haagsma.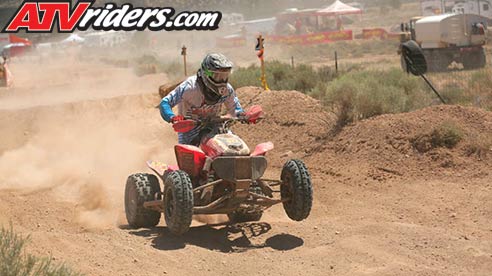 Despite having a mechanical issue, David Haagsma was still able to finish fourth
Things went much better for David Haagsma in the SxS 1000 class where he took the win with a last lap pass.  Haagsma started out in second and was putting the pressure on the leader.  Haagsma recorded the fastest lap time of the race in lap five with a time of 08:58.134. Haagsma's speed and persistence paid off and he took the lead in the final lap and the win. "It was a fast track and pretty fun. It was pretty dusty though and not a lot of wind to carry it away but I still had a great race," said Haagsma, who is currently second in class points.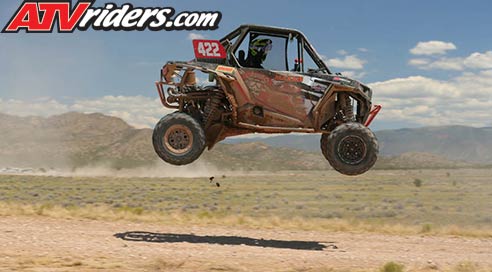 David Haagsma launches his Polaris RZR XP 1000 at Iron Mine Motocross. Haagsma went on to finish first to earn his second win of the season in the SxS 1000
In the SxS Pro class, Beau Baron grabbed the holeshot, but made a mistake in the second turn and fell back to second. The dust was quite a factor, but Baron kept going and hung on in second. "I ended up having a steering issue out there, but I was able to keep it going and took second. I still have the points lead and that's what counts right now," said Baron, who is hoping to take home the championship.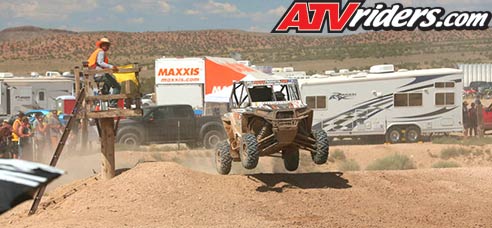 Defending WORCS Pro SxS Champion Beau Baron finished second at round 6
Round seven of the 2014 WORCS series will head to Straddleline ORV Park in McCleary, WA on Aug. 1-3 where the H&M Motorsports team will be looking to dominate the podiums.
H&M Motorsports' 2014 Sponsors:
Maxxis, H&P Dairy, Curtis Sparks, Elka Suspension, ROLL Design, Pro Motorsports, Impact Solutions, DWT, IMS Products, FLY Racing, Tire Blocks, X-Brand Goggles, Leatt, Works Connection, K&N Filters, Gaerne Boots, Cognito Motorsports, Hinson Racing, FASST Co., Sunstar Sprockets, ATVRiders.com, Precision Stabilizers, Pro Armor, DVS Shoes, RPM Dominator Axles, Maxima USA, Lusardi Motorsports, Baldwin Motorsports, Quad-Tech ATV, ODI Grips, JR Publications, Finish Line Signs, PowerMadd, Matrix Racing Products, The Winning Team (Dye Fusion Apparel), Mid-Cities Honda, CV4 Products & TCS Motorsports.