Lake Havasu, AZ (3/25/2014) - JRi/Lonestar Racing's David Flores was impressive at round three of the 2014 WORCS Series in Lake Havasu City, AZ; where he took on one of the most challenging courses of the circuit to earn a solid second place on the Pro-am podium to maintain the Pro-Am Championship points lead.
Lake Havasu is notorious as one of the roughest tracks the WORCS series travels to and this round was no exception. The incredibly rough track conditions and high temperatures that reached into the 90's by mid-day tested the true grit and strength of every racer. "This was one of the roughest tracks I have ever seen at Havasu, just unbelievably rough and intense," said Flores.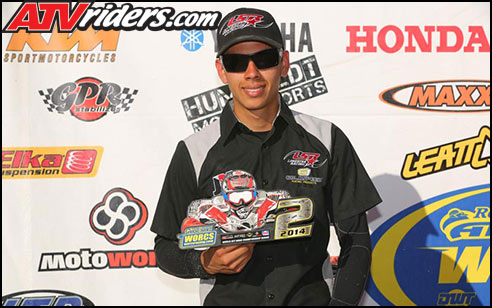 David Flores earned his third WORCS Racing Pro-Am podium finish this season at Lake Havasu WORCS. Flores also holds down the WORCS Racing Pro-Am Class points lead
Flores knew that a good start would be crucial, and he was second off the line with his Golden Motorsports powered Honda TRX 450R. "My Golden Motorsports' engine had amazing power off the start. It got me in second off the holeshot and kept me going for the entire race," Flores stated.
David Flores launches his Lonestar Honda 450R over the lagoon jump
Flores attempted to reel in the leader, but with a solid second place position, Flores decided to bypass the quicker yet risky lagoon jump line to conserve his body and machine for the nearly two hour long race, and his decision paid off as he remained unchallenged for the entire race and finished a lap ahead of third place for a solid second place finish to maintain his Pro-Am class points lead.
"I felt good out there. I am dealing with a couple of injuries, but I pushed really hard and ended up with second. I am really happy with that," said Flores.
David Flores makes his way along the beach of Lake Havasu
Although Havasu offered some of the most brutal course conditions of the season, Flores' JRi/LSR/Golden Motorsports machine was well equipped to handle treacherous whoop sections as well as high speed sand sections. His JRi Suspension kept him on top of the whoops, while his Goldpspeed tires from GPS Offroad provided optimum traction through the deeply rutted track.
"My JRi suspension was working awesome and my Goldspeed tires performed great out there and gave me the traction I needed. I plan to run them at Sand Hollow as well because they work so well in the sand," stated Flores.
Flores is looking forward to building on his positive momentum and as he continues his battle for the WORCS Pro Am Championship. Round four of the 2014 WORS series will head to Sand Hollow State Park in Hurricane, Utah on April 11-13th.
David Flores' 2014 Sponsors:
Lonestar Racing, GPS off-road Products, Mom & Dad, F.S.P. Productions, JRI Shocks, Goldspeed, Golden Motorsports, Pro-Motorsports, Mendoza Family, Fly Racing, Motion Pro, Rekluse Clutchs, Oury Grips, Fasst Flex, Powermadd, Shoei Hemelts, Leatt, Sunstar Spockets andCchains, Streamline Brakes
About WORCS:
WORCS RACING is always working towards bringing off road racing the fame and fortune it deserves. Our mission statement: "...to bring professionalism, integrity, quality, and most of all fun to each and every round, all the while staying true to the family oriented grass roots environment that off road racing is all about. "