ATV MX Championship
Sunset Ridge MX
Walnut, IL
June 17-18, 2017
Sunset Ridge Amateur ATV Motocross Report
Walnut, IL (6/23/2017) - The sixth round of the 2017 AMA ATV Motocross National Championship was held at Sunset Ridge MX in Walnut, IL. With over half of the season finished, the racing action is heating up as the battle for points and national championships is closer than ever.

Pro Am saw a new winner with Alan Myers clinching the overall win with 1-3 moto finishes. It was a breakthrough ride for Myers as it was not only his first win, but his first Pro Am podium as well. With the added confidence going into the last half of the season Myers is sure to be a challenger for the win each weekend.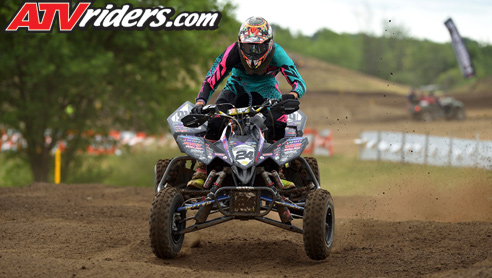 #24 Alan Myers
David Solecki also took a season best Pro Am finish with second overall. Solecki took third in moto one and sixth in moto two for a solid finish. Solecki is second in the points race for the Pro Am national championship.
Rounding out the Pro Am podium with third was the current points leader of Parker Wewerka. Wewerka had some issues in moto one where he took an eighth, but came back swinging in moto two with a second place to salvage third overall.
Brothers Noah Mickelson and Haedyn Mickelson once again dominated the Pro Sport class. Noah clinched the overall win with 2-1 moto finishes and is now on a four in a row win streak. Noah leads the class points.
#100 Noah Mickelson & #135 Haedyn Mickelson
Haedyn Mickelson took second right behind his brother. In moto one, Haedyn battled his way up through the pack and managed to steal the lead from Noah on the fourth lap for the moto win. Moto two Haedyn took a fourth for second overall.
The Pro Am winner, Alan Myers, also took his season best finish in Pro Sport with third overall. Myers went 4-2 in his motos for a very impressive finish during his breakthrough weekend.
Michelle Jenkins put in a perfect weekend, taking the win in both Women 25+ and WMX. This was Jenkins first win of WMX this season and she is in third place in points for the national championship.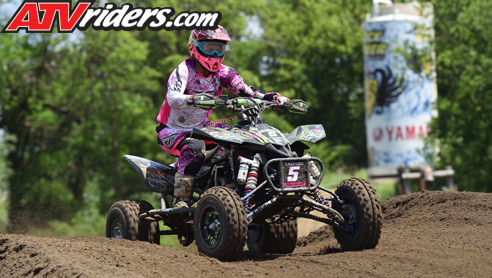 #5 Michelle Jenkins
Second in the WMX class was Kelsey Dyer who took the win in the previous round. Dyer rode her Honda to 3-1 moto finishes for a solid second place overall finish.
Kiersten Keane, the WMX class point's leader for the national championship, took 2-4 moto finishes to round out the podium with third overall.
#367 Kiersten Keane
Troy Hill grabbed the 450A class win. Hill battled his way to a first place finish in moto one and a fourth in moto two for the overall win. Hill also backed it up with another win in the Production A class.
#14 Troy Hill
Sky Volkamer stayed strong and consistent with 4-3 moto finishes in the 450 A class for an impressive second place overall finish.
Tommy Vossman led several laps and took a second in moto one and a fifth in moto two for third overall in 450 A.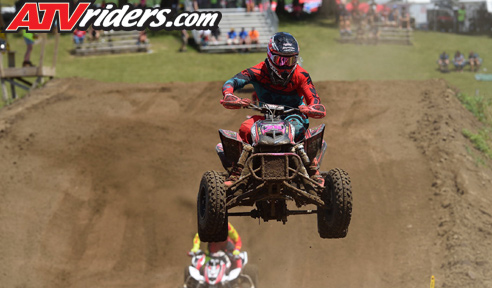 #26 Tommy Vossman
Chance Nekola grabbed his fourth win of the season in the 450 B/C class with perfect 1-1 moto finishes. Nekola is leading the points toward the national championship by an impressive 53 point gap to second place.
Gage Beebe rode his Yamaha to second place overall in 450 B/C with 2-2 moto finishes and Mason Hunt rounded out the podium with third.
The seventh round of the 2017 AMA ATV Motocross National Championship will be held at Spring Creek MX in Millville, MN Jul 1-2 where the best amateur racers from around the country will gather to compete once more.