ATV MX Championship
Loretta Lynn's
Hurricane Mills, TN
August 12, 2017

Joel Hetrick Clinches Championship, Chad Wienen Wins
Joel Hetrick Goes 1-2 for 2nd Overall to Clinch the Pro Championship
Hurricane Mills, TN (8/14/2017) - While Chad Wienen prevailed in the final battle, Joel Hetrick won the war. Though Wienen won the final round of the 2017 AMA Pro Wiseco ATV Motocross National Championship presented by CST at the Loretta Lynn Ranch, Hetrick clinched the championship. Hetrick finished second overall, ahead of Thomas Brown, who finished third in the title chase. Pro Rookie Westley Wolfe and Nick Gennusa completed the top five.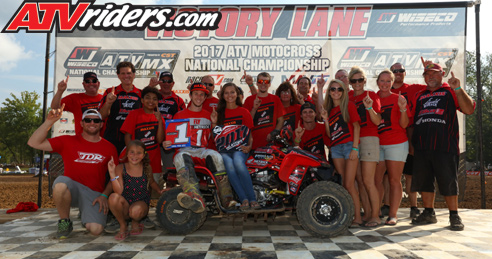 #1 Joel Hetrick celebrates his Pro ATV Motocross National Championshp
Hetrick came into the final round with one goal in mind: win the title. Wienen, on the other hand, was looking for his sixth straight title. It all became a matter of mathematics in the first moto. Ripping off an impressive holeshot, Hetrick led every lap on his Honda. Wienen drove from the back of the field after a difficult start and finished second. In the second moto, Hetrick rode a smart and consistent race, finishing second, while Wienen won. It marked Wienen's fifth victory of the season.

DASA Racing's Joel Hetrick grabbed the Moto One Holeshot & held the lead from start to finish to secure the moto win
"It was an amazing year with so much competition," said Wienen. "Congratulations to Joel on his first championship. We gave him a fight the whole time. We didn't want to relinquish it, but he put together some great rides. I got beat out of the start in the first moto. We made some adjustments for the second moto. We came out of the start a lot better. We made some quick passes and we put together a great moto."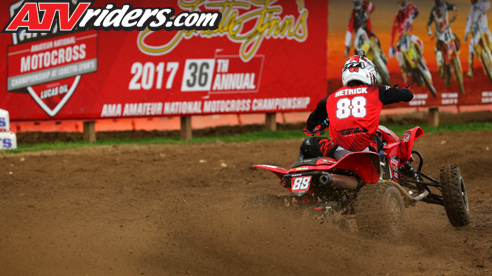 Maxxis' Joel Hetrick made history at Loretta Lynn's by claiming his first Pro ATV Motocross Championship
Though Hetrick had what he described as "not a great" start to the season, he had race craft when it counted. He swept motos in the last three races, taking over the points lead after the last race and finishing 11 points ahead of Wienen in the final tally. The title was a dream come true for Hetrick, who won a total of five races this year and finished on the podium in the other five.
"The main goal was to win the championship and we worked so hard for this," said Hetrick, who earned an additional $5,000 for the title. "I've been through a lot this year. The first couple of races weren't great. I thought after those races that our season was over, but I put my head down, charged hard and we got it. This is a childhood dream. I've worked for this all of my life; I've been riding for 20 years. I just can't say enough. It's an amazing feeling and I'm happy to be here."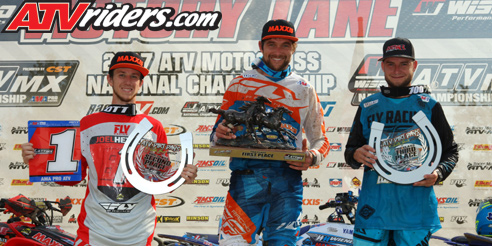 Pro ATV Motocross Podium (left to right)
Joel Hetrick (2nd), Chad Wienen (1st), Thomas Brown (3rd)

While Hetrick was dominating, Wienen was having trouble with starts. Those starts are what slowed him enough in the end to relinquish the points lead to Hetrick.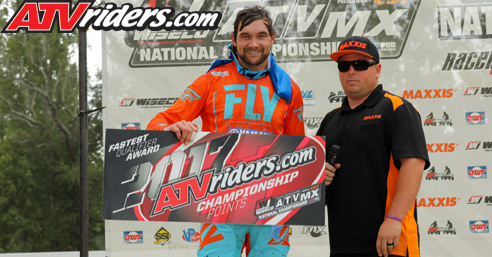 Yamaha's Chad Wienen claimed his 5th ATVriders.com Fastest Qualifier Award, which tied him with Joel Hetrick for the 2nd straight year, so each will receive $500 from ATVriders.com
::CONTINUED::