BEST IN THE DESERT
Mint 400UTV Race
March 4, 2017

Best in the Desert - Mint 400 - UTV Race Report
ITP's Mitch Guthrie Jr Takes 2nd Straight BITD Win at Mint 400
BEST IN THE DESERT
Mint 400 Links

Las Vegas, NV (3/7/2017) - Polaris RZR / ITP's Mitch Guthrie, Jr. proved his Parker 250 victory in the Best in the Desert Series season opener was no fluke as he dominated the Polaris RZR Mint 400 presented by BFGoodrich Tires. Guthrie Jr led every lap of the UTV Pro Turbo race and beat out Can-Am's Jason and Derek Murray, who finished second, ahead of BITD Pro Turbo rookie Sven Ellstrom. Polaris / UTV Inc's David Martinez finished fourth followed by Can-Am/ LSR's Logan Gastel. In the UTV Pro Production class, Dodge Poelman overcame a crash at the start to claim his first win.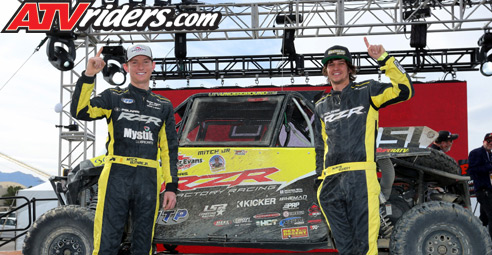 Polaris RZR's Mitch Guthrie Jr claimed his 2nd straight Pro Turbo UTV BITD Win at the Mint 400
The Mint 400, billed as The Great American Off Road Race, more than lived up to that tagline this season as 110 UTVs were entered. In fact, the series had to cut off entries to ensure a smooth race Race day was the culmination of many events in and around Las Vegas showcasing massive growth in the off-road industry. UTVs paraded down Las Vegas Boulevard on Wednesday. Friday's Contingency Day was a massive success with vendors, fans and racers all mixing in the block party atmosphere.
Downtown Las Vegas' Freemont Street was packed with desert racers & fans on Friday for BITD Contingency
Title sponsor Polaris pulled out all of the stops this year. During Contingency Day, Polaris officials made certain fans came away with merchandise, including sunglasses and towels. They even awarded lucky fan Chris Jensen a brand-new Polaris RZR Turbo after a drawing by the winning Trophy Truck driver, Rob MacCachren.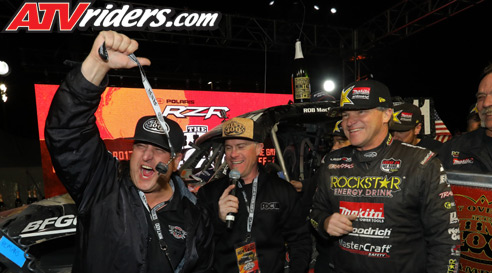 Chris Jensen was a randon winner of the Polaris RZR Turbo when his name was drawn by Mint 400 Truck Winner, Rob MacCachren
With all of the lead up events in the books, the race kicked off early Saturday morning before sunrise at 6am with picture perfect weather, but the course was as tough as ever, which kept many racers from completing all three laps over the 100-plus-mile long course.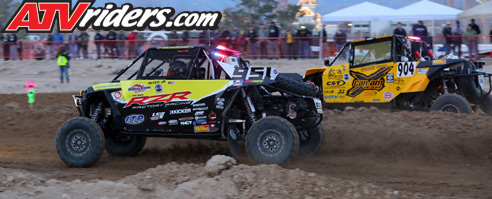 Mitch Guthrie Jr along with Scott Sappington were the first two UTV racers to leave the starting line shortly after 6AM on Saturday morning
ITP's Mitch Guthrie Jr earned the pole due to his victory in the season opener, and he was a man on a mission after taking over the front spot ahead of Scott Sappington on the two car start. Once out front, he was never seriously challenged and actually led the race by more than 30 minutes at one point.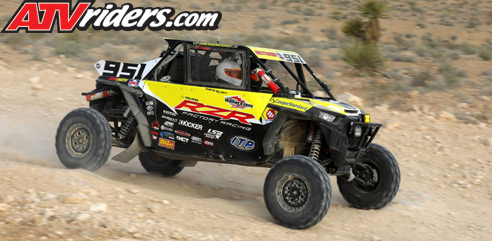 ITP's Mitch Guthrie Jr quickly ran away from the field with clean air & he held the lead from start to finish
"My plan was to get the holeshot and get away from everyone else so I could drive my own race," explained Guthrie jr. "That's what we did and it worked out for once. I got a flat coming into the pits and it took a brake line, but after a five-minute pit stop we were good to go. What my machine got through today really shows how awesome my sponsors are to put this thing together. I have the best crew out here."