BEST IN THE DESERT
Parker 250 UTV Race
January 6, 2018

Best in the Desert - Parker 250 - UTV Race Report
Brandon Schueler Wins BITD Parker250 UTV Opener
BEST IN THE DESERT
Parker 250 ATV & SxS Links

Parker, AZ (1/15/2018) - Brandon Schueler is on a roll in desert racing. His latest win came in the season opening Best in the Desert Series GMZ Winter Nationals Casey Folks Parker 250 and marks his third desert race victory in a row going back to the 2017 Baja 1000. Marc Burnett finished second, followed by Logan Gastel, Branden Sims, and Jason Murray. Dustin Jones was sixth in his brand new Can-Am MAX. Kaden Wells won the UTV Pro Production race.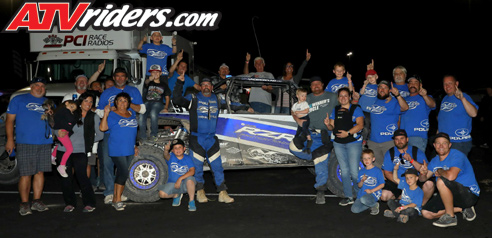 Brandon Schueler Kicked off 2018 with the BITD Pro Turbo UTV Desert Win at the Parker 250
A huge turnout of 56 Pro Turbo UTVs turned out for the event held in the desert surrounding Parker, AZ. The race started an hour later to allow for all the ATVs to be off the course when the UTVs took off. The leader finished just after sunset and the balance of the field finished in the dark. With temperatures in the 80s and little wind, visibility, especially at the end of the race after sunset, was definitely at a premium. Competitors ran three laps on the 80-mile loop of sand wash, whoops, rocks and canyons.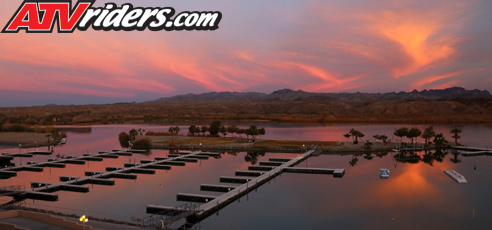 It was a picture perfect weekend in Parker, Arizona along the Colorado River for the Best in the Desert season opening GMZ UTV Winter Nationals Casey Folks Parker "250" Presented By Polaris
For Schueler, the race was the continuation of a dominant run started last season with his victory in the Baja 1000. He backed that up with another win in the 2017 BITD season finale.
The 2017 Pro Turbo UTV Champion, Phil Blurton, grabbed the early lead & held it till the last lap before suffering a mechanical issue
Schueler started second and battled with defending BITD Pro Turbo champion Phil Blurton for most of the race. As the two fought it out, they began gapping the field. About halfway through the final lap, Blurton limped into the pits with a mechanical issue, handing the lead and the victory to Schueler. Blurton finished 21st.
"We're ringing in the new year with an awesome start," said Schueler. "We have three in a row right now and we're going into the Mint 400 with a brand new fresh car. It's cloud nine for us."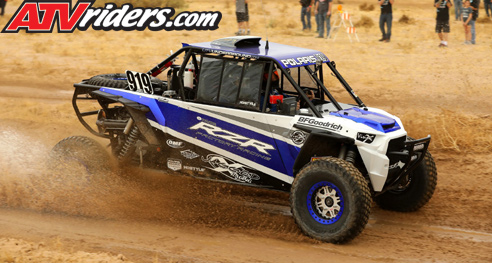 Brandon Schueler started on the front row along side 2017 Pro Turbo Champion, Phil Blurton, & the pair battled for nearly the entire race before Schueler took over the lead halfway through the last lap when Blurton suffered a mechanical issue, which dropped him back 21st
Schueler struggled with his Polaris RZR turbo for most of the season in 2017. To say he has it dialed in is an understatement.
"Our car is finally dialed in and this car is ridiculously fast right now," said Schueler. "We caught up to Phil in the main pit area on lap three. We kept up the pressure on him and then midway through the lap he ended up limping in. We got around him in the pits and had a little bit of fresh air to finish the race."