2017 Dirt Series
Round #8 - 333 MX Park
September 17, 2017
Victorville, CA

Dirt Series - Round 8 - 333 MX Park - Race Report
Alex Theodorou Wins Pro ATV & Nic Granlund Wins Pro SX
Victorville, CA (10/4/2017) - Alex Theodorou and Nic Granlund won the pro portion of the DIRT Series events at 333 MX Park. The event was the second to last event on the West Coast regional series calendar.

The DIRT Series features regional off-road racing for dirt bikes, ATVs, UTVs, SR1s and trophy karts. According to promoter Steve Miller, the series is beginning to see growth, especially in its youth classes.

A large turnout of Youth UTV racers competed at the 333 MX Park Dirt Series Round 8 event
"We have lot of youth coming in," said Miller. "The motto of the series is: 'Where it all begins.' We have a youth-infused series. We have a lot of young kids, especially in the 170 Youth UTVs. Now we're getting an upstart in the youth ATVs. There are a lot of crossovers of the kids on dirt bikes."
The diversity of racing classes, and especially its inclusion of UTVs and ATVs, make the DIRT Series unique on the West Coast. Additionally, Miller is running a special championship for athletes that compete in both DIRT and QuadX.
"We have the West Coast Motocross Championship," said Miller. "If you race a minimum of races in the DIRT Series and a minimum or races in QuadX, at the end of the year you'll get a WCMC award. DIRT and QuadX have their own awards banquets, but we wanted to put together this umbrella program to involve everything we're doing and give everyone a little extra perk."
The race featured a full schedule of racing events on 333's main course. The track featured a tight and technical arena section, as well as some good jumps, long straightaways and rollers.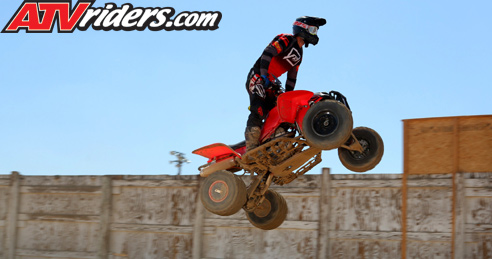 Alex Theodorou claimed both Pro ATV Moto wins
In Pro ATV, Theodorou padded his points lead with a runaway victory in the motos, scoring a win in the first moto and a runner-up finish in the second. Theodorou appreciates the hard work Miller has put in to run the DIRT Series.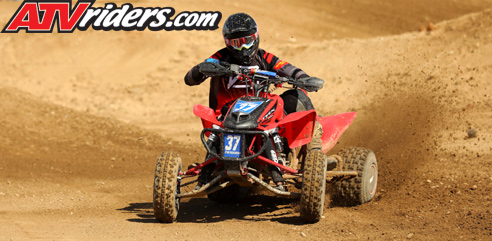 Alex Theodorou claimed both Pro ATV Moto wins
"This is a fun series and Steve puts on a great show," said Theodorou. We have SXS, quads and dirt bikes, so you get to see a little bit of everything. They do holeshot awards for every moto. We usually leave with a few hundred bucks, which is nice. Steve is talking about taking QuadX all the way up and down the West Coast. For 2018, we're going to have a good turnout."
Auston Baxter finished second, scoring a 2-1 in the motos. In true regional style, Baxter wrenches on Theodorou's Honda when he's not battling with him on the track.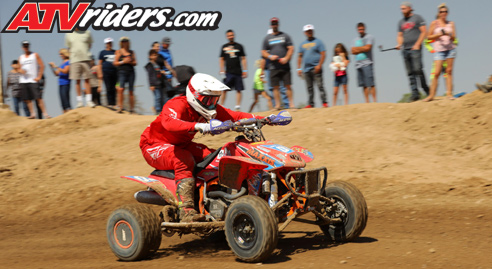 Auston Baxter
"It's a good weekend when we go 2-1," said Baxter. "He usually wins, but if we go home on podium, it's always a good weekend. I've been racing for 10 years. The DIRT Series puts on a good show for us. Steve helps us out a lot and lets us ride. It's hard to find tracks that allow ATVs. I just ran my own race today. We'll come back at the next round and try to catch him."
Craig Bennett finished third. Bennett has competed with DIRT for several years and has graduated through its different classes.
Craig Bennett
"I've been racing DIRT for the last three years," said Bennett. "I started out in novice, took some time off for college, then I raced two years in Pro-Am. It's an honor to ride next to these guys. I wish I could get more seat time to battle with them. I'll keep working on it. The rest of the year is going to be great."
::CONTINUED::