Powerline Park GNCC
Round 11 - ATV Racing Links
St. Clairsville, OH (10/7/2012) - Round 11 of the 2012 Can-Am Grand National Cross Country Series hit eastern Ohio on Saturday for the 12th running of the ITP Powerline Park GNCC, one of the most iconic stops on the 13-race tour. West Virginia's Adam McGill landed his first win of the season in front of hometown friends and family but Ohio's own Walker Fowler, finishing only one second behind McGill, contested the win until the very end.
Waynesburg Yamaha's Jeff Pickens grabbed the $250 Motosport.com Pro ATV Holeshot at Powerline Park GNCC aboard his Yamaha YFZ450R ATV
Ballance Racing Yamaha's Fowler kicked off Saturday's afternoon race with high intensity, battling Waynesburg Yamaha's Jeff Pickens for the $250 Motosport.com Holeshot Award but it was Pickens who came out on top with his first holeshot of the season. However, Fowler was able to put himself out front on the opening lap and JG Offroad/FRE/American Honda's Brian Wolf tucked in behind as the two began to gap the field early on. Wolf slowly faded back as riders like four-time GNCC champ Chris Borich continued to move towards the front.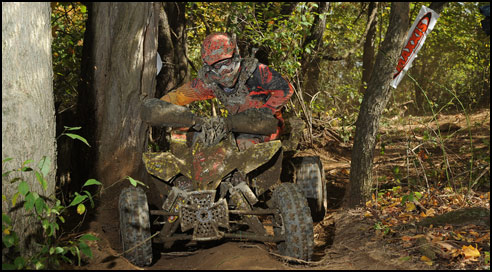 Despite wrapping up an early 2012 GNCC XC1 Pro ATV Championship, Chris Borich was on track to take another win this season. Unfortunately for Borich, his exhaust fell off & then on lap 4 his ATV caught on fire putting him out of the race for the day
Borich has had a target on his back all season long and although the Maxxis / Yoshimura rider wrapped up the 2012 title last round, the pressure to win races still exists. Borich quickly made his way to the front after a mid-pack start and by Lap 2 was dicing back and forth with Fowler, McGill and Chris Bithell for the lead position. Borich, Fowler and McGill each held the lead at one point or another but perhaps the biggest turning point came on the final lap when Borich experienced mechanical issues that took him out of the race for the first time in the 2012 season. Upon Borich dropping out of the race, McGill and Fowler focused on the intense two-way battle for the lead as they ultimately finished only one second apart for the win.
Adam McGill took his first win of the season at Powerline Park GNCC aboard his Precision / Lonestar Racing / Moto-Xperts powered Honda 450R ATV
Precision Motorsports / Lonestar Racing / Moto-Xperts' Adam McGill has been plagued with mechanical issues and injury for nearly half the season, so his Round 11 victory could not have come at a better time. Although Fowler led a majority of the two-hour race, McGill was able to capitalize on the others' last-lap mistakes to secure his first win of the season.
"It's been a tough season for us," said McGill. "We're like a factory team trying to do this on a family budget so it feels really good to know that I can come out here and still get a win like this."
Can-Am / Motoworks Chris Bithell grabbed the final spot on the GNCC XC1 Pro ATV Podium at Powerline Park Placing third aboard his Can-Am DS450 ATV
Bithell secured his fourth podium finish this season for the Motoworks/Can-Am team after being within striking distance of the win all afternoon.