Loretta Lynn's GNCC
Round 13 - ATV Racing Links
Hurricane Mills, TN (11/5/2012) -In an all-out battle to the finish, Maxxis/Yoshimura's Chris Borich took home the victory at Sunday's Parts Unlimited Loretta Lynn's GNCC finale. However, it wasn't without tough competition from fellow XC1 class opponents. Borich was able to make a last-lap pass on Ballance Racing Yamaha's Taylor Kiser to take over the lead and lock in his tenth win of the 2012 Can-Am Grand National Cross Country season in Hurricane Mills, Tenn.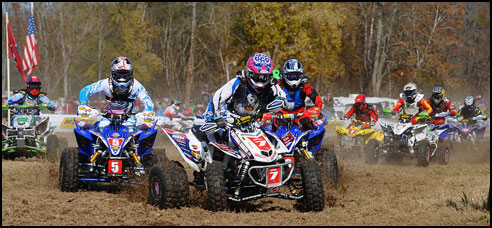 National Guard / Coastal Racing's Jarrod McClure grabbed the GNCC XC1 Pro ATV Holeshot at Loretta Lynn's Ranch in Hurricane Mills, Tennessee
It was Bowers / Coastal National Guard / Yokley Racing's Jarrod McClure who secured the $250 Motosport.com Holeshot Award and jumped out to the early lead on the historic Loretta Lynn's motocross track.
Bower's Jarrod McClure would finish fifth at Loretta Lynn's & sixth in the 2012 GNCC XC1 Pro ATV Class Championship
McClure was followed by a whole slew of top runners, including JG Offroad / FRE / American Honda's Brian Wolf who led the pack on Lap 1. However, it didn't take for the lead position to change once again as Walker Fowler put his Ballance Racing Yamaha machine out front next.
Brian Wolf led the race briefly on lap 1 aboard his FRE / American Honda 450R ATV. Wolf would finish out the 2012 GNCC XC1 Pro Championship ninth
Motoworks / Can-Am's Chris Bithell experienced mechanical issues on the first lap that removed him from the lead battle early on. Bithell's pit crew tried their best to salvage the day but unfortunately weren't able to get back on the course.
Precision / ITP's Adam McGill led lap 3 at Loretta Lynn's. McGill would finish just outside the GNCC XC1 Pro Podium in fourth place