Walker Fowler Kicks Off 2017 GNCC Season With Win
Jarrod McClure & Brycen Neal Podium at Big Buck GNCC
Union, SC (3/5/2017) - The 43rd Annual Grand National Cross Country Series (GNCC) presented by Maxxis, an AMA National Championship, kicked off today, March 4, with the VP Racing Fuels Big Buck GNCC in Union, South Carolina. The season opener was greeted with mild, sunny weather, creating ideal race conditions for Walker Fowler to take his first win of the season on his WFR/Yamaha/Maxxis/Fly Racing-backed machine.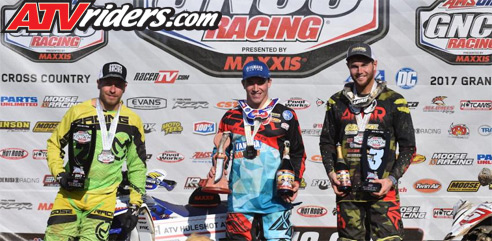 GNCC Racing Pro XC1 ATV Podium (left to right)
Jarrod McClure (2nd), Walker Fowler (1st), Brycen Neal (3rd)
As the green flag waved for the very first race of the season, Fowler wasted no time in making his way to the front as he grabbed the $250 Wiseco XC1 Pro Holeshot Award. N-Fab/AmPro Yamaha's Cole Richardson and JMR/ATVriders.com's Jarrod McClure were right behind Fowler. While they found success, six-time GNCC champion and Chris Borich Racing's Chris Borich was watching the action from the back of the pack.

When they checked through timing and scoring for the first time, Fowler had an incredible 38-second lead over McClure who moved second over Richardson just before the scoring checkpoint. With a clear track, Fowler continued to lead the way while the action heated up behind him.
While McClure continued holding the pace for second, Richardson found himself battling with Borich at the halfway point of the race, and before long Coastal Racing's Brycen Neal found himself in the mix too. As the race wore on, the three continued pushing and slowly gaining on McClure and Fowler.
However, as the seconds ticked away it wasn't enough to make a difference as Fowler stayed in the lead. When the white flag came out, Fowler was almost a minute ahead of his competition. While it seemed like the race was his, he started slowing down and looking down at his quad.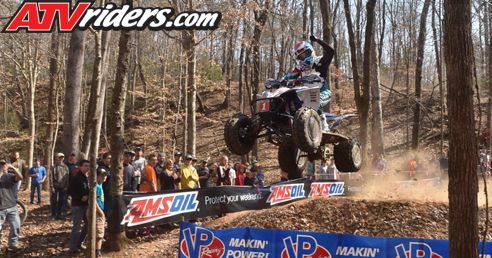 Two-time GNCC Champion, Walker Fowler, started off the 2017 season with another win
"I knew that with the fields a little dusty and they woods tight that it would be hard to pass," said Fowler. "I knew it was important to get out front early and run my own race, so I did just that and put it on cruise control."
The cruise control element allowed Fowler to hold onto the lead on the last lap. Fowler worked through the difficulties to cross the finish line 42 seconds ahead of his closest competition of McClure.
As they raced through the final field section wheel-to-wheel, Neal was just able to squeeze by Borich to take the bronze. A mere eight-hundredths of a second separated the pair as the came across the checkered flag. "I just rode the race, and protected the inside lines. I'm happy with a podium finish and especially with this being the first race," said Neal.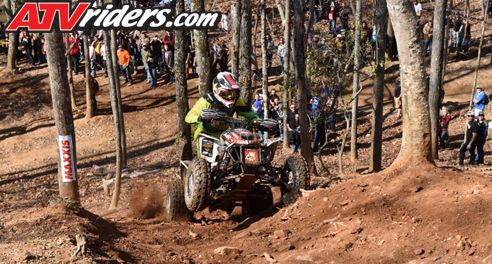 Jarrod McClure's results continue to show he will be a title contender
Borich locked in fourth and CST/Induction Solutions/LSR/HiPer/Spider Graphix's Adam McGill ran a consistent race and ended up placing just behind him in fifth. Richardson would face some issues on the last lap and drop back where he crossed the line in sixth.
After a favorable start, GBC/Canyon Motorsports/Fly Racing's Landon Wolfe held on to the momentum for seventh, with Pierce Performance's Cody Collier and GBC/Fly Racing/HMF/Yamaha's Johnny Gallagher in eighth and ninth. Honda-mounted rider Brian Wolfe rounded out the top ten XC1 Pro finishers.
As if the racing action in the XC1 Pro division wasn't enough, the XC2 Pro-Am class brought the heat too. Hygear Suspension/MR Unlimited/GBC Tires/Tire Spine's Devon Feehan made a statement where he took gold in his first ever XC2 Pro-Am race. After being named the 2016 Top Amateur of the Year, Feehan will ultimately be a top XC2 title contender this year along with Covert Racing's Greg Covert and Ithaca Recreation/Maxxis/Quad Tech/Storm Peak Crossfit's Hunter Hart, who placed second and third.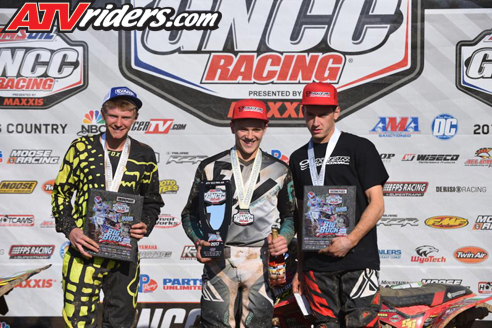 XC2 Podium: (3) Hunter Hart, (1) Devon Feehan, (2) Greg Covert
Top Amateur honors went to John Glauda Jr. who also took his first ever win in the College A (16-21) class. Vet A 28+ competitors, Jeffrey Pickens and Thomas Koontz Jr. rounded out the amateur overall podium.
Schoolboy Sr. (14-17) class winner, Ronnie Rusch, raced his way to the overall amateur win in the 10 a.m. race. Cunningham Racing/Can-Am/Maxxis's Kevin Cunningham followed in second and Can-Am/DJR/QuadBoss' Bryan Buckhannon placed third. Cunningham secured the class win in the 4x4 Pro class, with Buckhannon and Team UXC Racing's Kevin Trantham claiming the last two spots on the box. Angel Knox, Traci Pickens and Dillinger's Celtic Pub's Katelyn Osburn held the top three positions in the WXC class.
10 a.m. Overall Podium: (3) Bryan Buckhannon, (1) Ronnie Rusch, (2) Kevin Cunningham
The 8 a.m. youth race was the first to experience the South Carolina woods today. Casey Simmons, Colton Stoneking and Ayden Konkler rose to the occasion and topped the overall podium.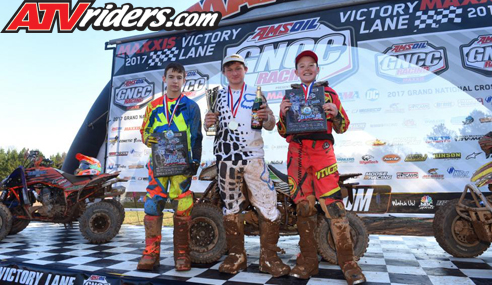 Youth Overall Podium: (2) Colton Stoneking, (1) Casey Simmons, (3) Ayden Konkler
The 1 p.m. ATV Pro race was broadcast LIVE in its entirety on RacerTV.com and can be viewed as archived video online by visiting the GNCC LIVE page online. A highlight show featuring the event will be aired on the NBC Sports Network on Saturday, April 1 at 6:30 p.m.
The 2017 AMSOIL Grand National Cross Country Series resumes in one week, March 11 and 12, in Palatka, Florida with the Moose Racing Wild Boar GNCC.
Pro XC1 & Pro-Am XC2 Top 10 ATV Race Results & Point Standings

XC1 Pro ATV Race Results:
XC2 Pro-Am ATV Race Results:

Walker Fowler (YAM)
Jarrod McClure (HON)
Brycen Neal (YAM)
Chris Borich (SUZ)
Adam McGill (HON)
Cole Richardson (YAM)
Landon Wolfe (HON)
Cody Collier (YAM)
Johnny Gallagher (YAM)
Brian Wolfe (HON))


Devon Feehan (HON)
Greg Covert (YAM)
Hunter Hart (YAM)
Matthew Lindle (HON)
Brandon Icard (HON)
Jeff Miller (HON)
Bryson Hoppes (YAM)
Levi Coen (HON)
Sam Hough (HON)
Wes Kinsley (SUZ)


XC1 ATV Overall Standings:

XC2 Pro-Am ATV Point Standings:

Walker Fowler (30)
Jarrod McClure (25)
Brycen Neal (21)
Chris Borich (18)
Adam McGill (16)
Cole Richardson (15)
Landon Wolfe (14)
Devon Feehan (13)
Greg Covert (12)
Cody Collier (11)

Devon Feehan (30)
Greg Covert (25)
Hunter Hart (21)
Matthew Lindle (18)
Brandon Icard (16)
Jeff Miller (15)
Bryson Hoppes (14)
Levi Coen (13)
Sam Hough (12)
Wes Kinsley (11)