Walker Fowler Wins Third Straight at Cannonball GNCC
Hunter Hart Takes his First Pro-Am XC2 ATV Win
Sparta, GA (3/26/2017) - The third round of the 2017 AMSOIL Grand National Cross Country (GNCC) series presented by Maxxis, an AMA National Championship, was treated to perfect weather conditions today, March 25, at the second annual Maxxis Cannonball GNCC in Sparta, Georgia. The track provided plenty of racing action, where WFR/Yamaha/Maxxis/Fly Racing's Walker Fowler eventually took home the overall win at the conclusion of the two-hour race.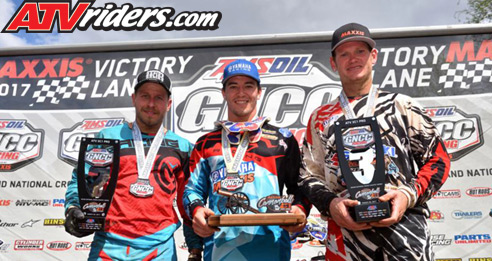 GNCC Racing Pro XC1 ATV Podium (left to right)
Jarrod McClure (2nd), Walker Fowler (1st), Chris Borich (3rd)
CST/Induction Solutions/LSR/HiPer/Spider Graphix's Adam McGill jumped out to the early lead and grabbed the $250 Wiseco XC1 Pro Holeshot Award. While McGill faced a clear track in front of him, there was nothing but riders behind him who were all eager to take his place.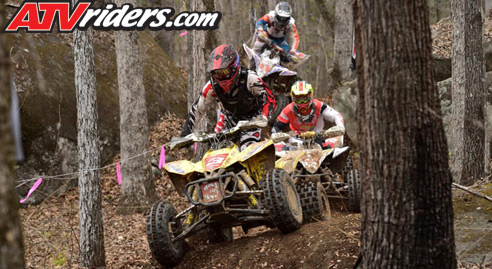 The Maxxis Cannonball GNCC witnessed the best racing action of the entire season
Six-time GNCC champion, Chris Borich and GBC/Canyon Motorsports/Fly Racing's Landon Wolfe were applying the pressure to McGill early on. After an unfavorable start, Fowler sat in fifth around the three-mile marker.
Within five miles, Fowler was able to shave off two positions where he sat in third. With a tight track, Fowler was accompanied by Coastal Racing's Brycen Neal who sat in fourth.
As the front runners checked through timing and scoring for the first time, the group was all wheel-to-wheel with less than four seconds separating them. They would continue racing this way for the majority of the race.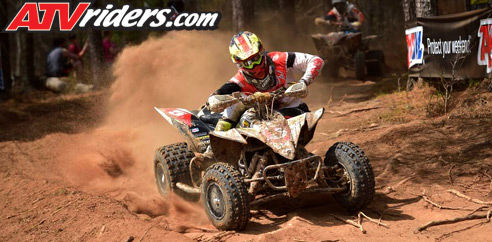 Brycen Neal was able to lead half of the race, proving it won't be long until he stands in the middle of the box
As McGill continued to lead, Fowler faded back and Neal was able to secure second right before they hit the nine-mile mark. Borich wasn't ready to settle for third, where within the next few miles he took the second place back.
This pass fired Neal up where he made another move on both Borich and McGill and moved into the lead as the two-lap card came out. While Neal was finding success, Fowler found himself struggling with a loss of front brakes.
Neal continued to lead the race, while Fowler pushed through. Once the white flag was out, Neal sat a few bike lengths ahead of Fowler and Borich who were rubbing plastic. With only a few miles remaining, Fowler took a unique line across a creek to take the pass for the lead.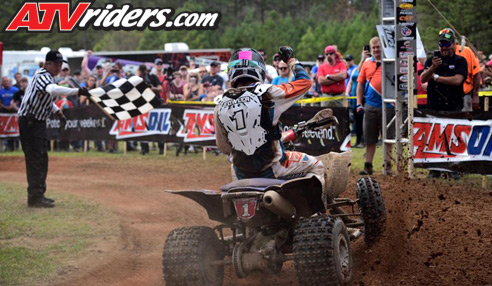 After riding half the race without front brakes, Walker Fowler extended his win streak to three-in-a-row
Shortly after the pass, Neal would face more issues and clip a tree allowing JMR/ATVriders.com's Jarrod McClure to move into second. After starting the race outside of the top ten, McClure slid under the radar just as his nickname "Sneaky Snake" implies.
With the largest lead anyone had experienced all race, Fowler rode the last mile comfortably and crossed the finish line victorious. McClure followed just 30 seconds behind in second. Neal was back on-track and in second as he and Borich headed into the final field section. Borich was right on his tail, and was able to hold onto the gas for just a second longer as they went back into the last woods section. This would play a major role in the final podium position where Borich would end up.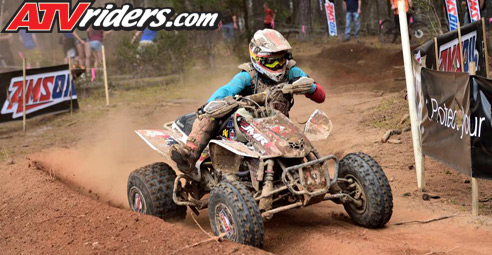 Jarrod McClure worked his way from outside the top ten to second overall
As if his come-from-behind win wasn't exciting enough, Fowler was able to set the fastest lap time of the day on the last lap. "The first two races I was able to do my thing, but that wasn't the case today. Everyone showed up to race, and it kind of caught me off guard," said Fowler. "I had an uncommon fifth place start. We hit the trail and I kept making small mistakes and hitting trees. After about the first hour I bent the front brake rotor so I didn't have any brakes and I just gave up. Everyone kept cheering me on and then everything started clicking again. I was able to pass Borich and McGill over the creek crossing on the third lap, and I took another line through that same spot the last lap and made the pass on Neal."
Neal finished just off the podium in forth, and McGill managed to hold onto fifth. Wolfe earned his second sixth place finish of the season, and Shockworx Motorsports/Spider Graphics/GBC Tires 's Tucker Wyatt raced his way to a personal best finish in seventh.
::CONTINUED::