Walker Fowler Claims 31st Win at Camp Coker GNCC
Hunter Hart Takes Frist GNCC Pro-Am XC1 ATV Win
Society Hill, SC (4/25/2017) - The temperatures were not the only thing heating up as the fifth round of the 2017 AMSOIL Grand National Cross Country (GNCC) Series presented by Maxxis, an AMA National Championship, took place today, April 22, at the Moree's Sportsman's Preserve in Society Hill, South Carolina. The racing action was nothing short of exciting with heated battles taking place all day long at the second annual CST Tires Camp Coker Bullet GNCC. By the time the 1 p.m. pro took to the start line, the hot and humid day created a true testament of the racer's fitness levels, but at the end of the grueling two-hour race it was WFR/Yamaha/Maxxis/Fly Racing's Walker Fowler claiming yet another overall win in the Palmetto State.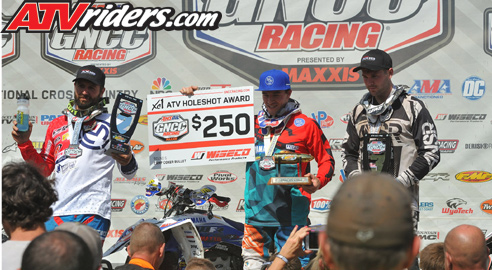 GNCC Racing Pro XC1 ATV Podium (left to right)
Adam McGill (2nd), Walker Fowler (1st), Brycen Neal (3rd)
As the green flag dropped it was Fowler who jumped out to the early lead and claiming the $250 Wiseco Holeshot Award. ATV Innovations/Solo Pilot's Westley Wolfe and BNR Motorsports / Maxxis / Pro Graph-X / Precision's Josh Merritt sat on his rear wheels as they filed through the first turn. Merritt would make the pass on Wolfe as they headed into the woods to begin their quest for the overall victory.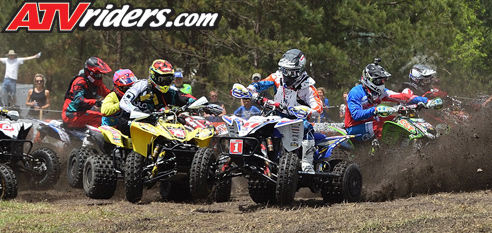 Walker Fowler jumped out to the early lead and earned the $250 Wiseco Holeshot Award
By the two-mile mark Fowler continued to lead the pack, but he had a new rider behind him – CST / Induction Solutions / LSR / HiPer / Spider Graphix's Adam McGill. Merritt, Wolfe and six-time GNCC champion Chris Borich sat in the top-five.
McGill began charging on the second lap where he cut the gap down to 12 seconds. Coastal Racing's Brycen Neal made quick work to secure fourth on the second lap. Unfortunately Merritt started slipping back by the end of second lap.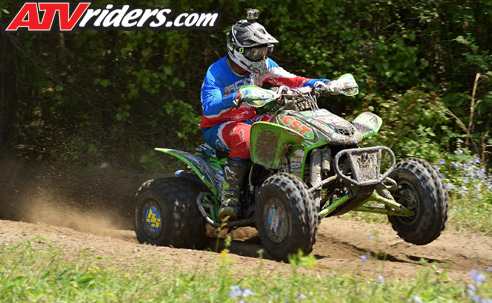 Adam McGill finished in the 2nd Spot on the GNCC Pro ATV Podium
Borich followed the front runners and decided to pit after the conclusion of the second lap. Neal elected to go one more lap before getting a splash of gas, and the added time allowed him to make the pass on Borich for third.
Fowler continued to ride his own race and smoothly work his way around the lapped riders. McGill ran a consistent race and maintained second. As the fifth and final lap wore on Fowler, McGill and Neal stayed evenly spread out. Fowler earned his fifth-straight win of the 2017 season and 31st career overall win. McGill found the checkered flag 30 seconds behind Fowler, and Neal rounded out the overall podium in third.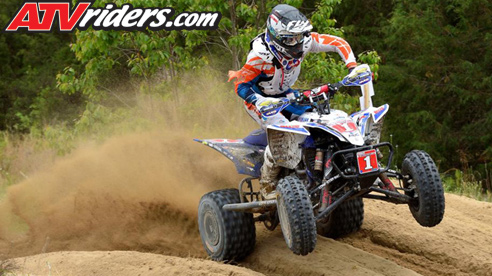 Walker Fowler secured his 5th straight win & remains undefeated in 2017
"I knew this race would require a good start, and I ended up timing it perfect," said Fowler. "We pushed really hard on that fourth lap and got a gap built up so I just kind of cruised that last lap. It about got me in trouble because I hit the motocross track and realized McGill wasn't too far behind me. I put myself in a position to win, and I will take number five with a smile on my face."
::CONTINUED::