Walker Fowler Claims 6th Win at Tomahawk GNCC
Adam McGill & Chris Borich Round Out GNCC Pro ATV Podium
Odessa, NY (6/11/2017) - After a three week break, the AMSOIL Grand National Cross Country (GNCC) Series presented by Maxxis, an AMA National Championship, continued today, June 10, at the Seneca Highlands in Odessa, New York. Track conditions were favorable, where fans lined the start to see six-time GNCC champion, Chris Borich narrowly edge out GBC/Canyon Motorsports/Fly Racing's Landon Wolfe for the $250 Wiseco Holeshot Award at the third annual Dunlop Tomahawk GNCC.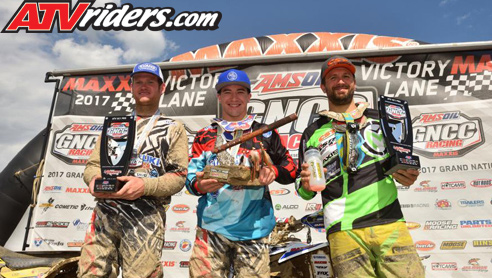 GNCC Racing Pro XC1 ATV Podium (left to right)
Chris Borich (3rd), Walker Fowler (1st), Adam McGill (2nd)
Wolfe wasn't ready to settle for second and quickly took the lead with Dillinger's Celtic Pub/GBC Motorsports/Moose Racing's Marty Christofferson in tow as they headed into the woods. Wolfe continued leading majority of the first lap with Christofferson, Borich and WFR/Yamaha/Maxxis/Fly Racing's Walker Fowler on his tail.
"I'm not sure what's going on with my starts, but I need to work on that," said Fowler. "Luckily, we were ahead of McGill off the start or it would have been a long day. It took me until the end of the first lap to get into the lead, and I was surprised with how wet the track was that first lap."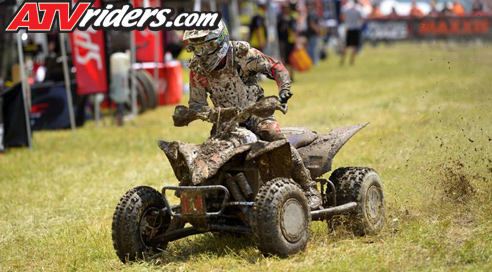 Walker Fowler remains the only rider with an overall win at the Tomahawk GNCC
Fowler struggled to get through the frontrunners, but advanced through the riders and made some quick passes to be in the lead as he approached timing and scoring for the first time. Meanwhile, McGill was working his way through the pack after a bad start and sat in sixth.
As the second lap wore on, McGill closed the gap on Fowler and was on Fowler's back wheels as the white flag came out. With the added pressure from McGill, Fowler ended up hitting a tree allowing for McGill to make the pass. After getting back on-track, McGill got hung up with some lapped riders where Fowler was able to catch back up.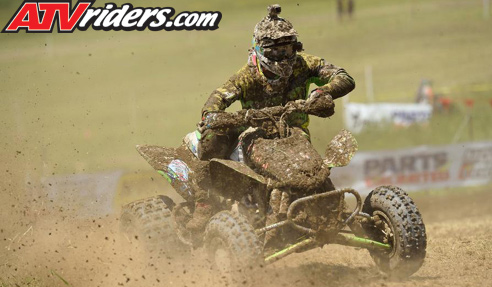 Adam McGill finished in the 2nd Spot on the GNCC Pro ATV Podium
"Toward the end of the race I got into some lapped traffic and that made me lose some time," reported Fowler. "McGill caught up with me and was pushing it a little too hard and I tagged a tree. Then more lapped traffic was ahead of McGill and I was able to make that time back up once I got back going."
With only one open field section remaining, Fowler realized this was the prime opportunity to get back to the front. The duo were side by side, but Fowler was able to make the move and lead the way to the finish. Despite McGill's efforts to end Fowler's success, Fowler remains the only person to have an overall Tomahawk win on his resume.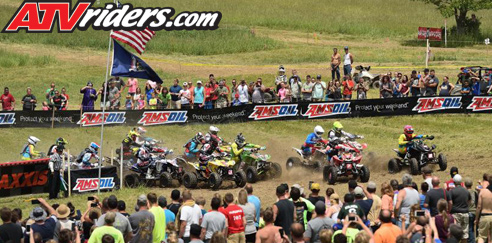 Chris Borich narrowly edged out Landon Wolfe for the $250 Wiseco Holeshot Award
"We progressively keep getting better. We are like a steam roller, and just keep getting better each race," said McGill.
Borich ran a consistent third-place race to round out the overall podium. JMR/ATVriders.com-backed Jarrod McClure just missed the box, with fourth overall, and after leading most of the first lap, Wolfe maintained his pace to land a top-five finish.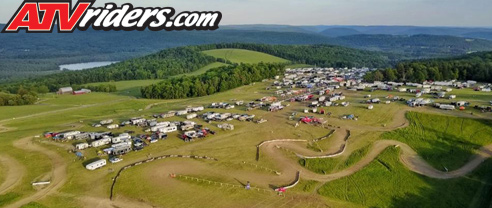 Race conditions were perfect at the Dunlop Tomahawk GNCC in Odessa, New York
BNR Motorsports/Maxxis/Pro Graph-X/Precision's Josh Merritt scored his best finish of the season with seventh overall, and GBC/Fly Racing/HMF/Yamaha's Johnny Gallagher followed in eighth. ATV Innovations/Solo Pilot's Westley Wolfe and Christofferson rounded out the top-ten overall.
Coastal Racing's Brycen Neal was struck with bad luck on the last lap where his right rear wheel fell off. Neal displayed the heart of a champion, where he rode the last mile of the race with only three wheels to finish 13th in class and 65th overall.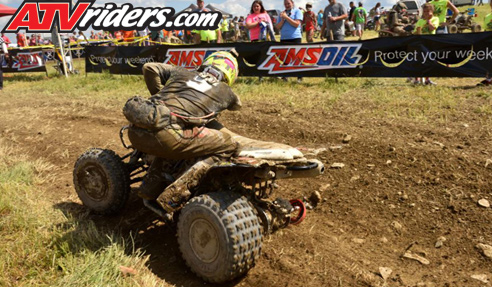 Brycen Neal faced an all-new obstacle on the last lap, where he rode his way to the finish with only three wheels
::CONTINUED::