Walker Fowler Takes Snowshoe GNCC Pro ATV Win
Chris Borich & Kevin Yoho Round Out GNCC Pro ATV Podium
Snowshoe, WV (6/25/2017) - The 2017 AMSOIL Grand National Cross Country (GNCC) Series presented by Maxxis, an AMA National Championship, continued today, June 24, with the 11th AMSOIL Snowshoe GNCC held at the popular Snowshoe Mountain Resort in West Virginia. "America's toughest race" lived up to its nickname after an abundant amount of rain fell in the days prior to the race creating slick and muddy conditions for the world's fastest off-road ATV racers.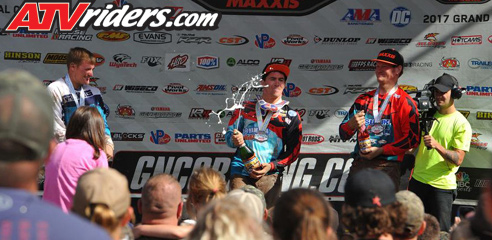 GNCC Racing Pro XC1 ATV Podium (left to right)
Kevin Yoho (3rd), Walker Fowler (1st), Chris Borich (2nd)
With the unique live engine start modeled after the famed Blackwater 100 race, Chris Borich would find himself in a favorable position and lead the way into the woods, with CST/Induction Solutions/LSR/HiPer/Spider Graphix's Adam McGill in tow. Once they reached the infamous Howard's Hole it was WFR/Yamaha/Maxxis/Fly Racing's Walker Fowler in the lead position, and as he approached timing and scoring for the first-time Fowler had a 49-second lead on the rest of the field who was held up in a bottleneck.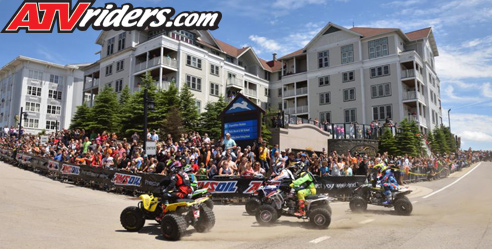 Chris Borich grabbed the Pro ATV holeshot for the second straight race
Unfortunately, McGill suffered from a crash early on allowing for Borich and Coastal Racing's Brycen Neal to get by. Although they were physically second and third on the track, it was BNR Racing's Kevin Yoho and Brent Sturdivant in second in third on adjusted time. The standings remained the same throughout the second lap.
Neal was able to secure third on adjusted time on lap three, while Sturdivant began fading through the pack. Meanwhile, Fowler continued to stretch his lead and Yoho kept a steady pace in second. Fowler continued to lead the entire race, earning his seventh win of the season. Yoho had his personal-best finish, landing his first-ever podium finish with second overall.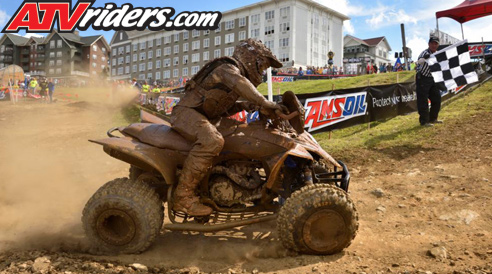 Walker Fowler took the lead on the first lap and never looked back - earning his seventh win of the season, which extends his points lead to 76 points
Neal was plagued with bad luck on the last lap where he got stuck and had to dismount his quad in Howard's Hole, allowing Borich by for third. Neal quickly rebounded, but just missed the overall podium in fourth.
"Adam [McGill] is so successful here, so we are all the underdogs heading into this race," said Folwer. "To see guys like Kevin [Yoho] up here getting his first podium – it's just awesome. This place is so unpredictable, I got stuck twice during the race, it just seemed like the bottom was falling out of the track."
Brian Wolf had his best finish of the year with fifth overall, followed by Pierce Performance's Cody Collier and GBC/Canyon Motorsports/Fly Racing's Landon Wolfe. JMR/ATVriders.com's Jarrod McClure crossed the finish line in eighth and Dillinger's Celtic Pub/GBC Motorsports/Moose Racing's Marty Christofferson finished ninth. Sturdivant rounded out the top ten overall.
::CONTINUED::