John Penton GNCC UTV Race Report
Hunter Miller Takes GNCC Pro XC1 UTV Win & Points Lead
Millfield, OH (7/11/2017) - Hunter Miller won his first AMSOIL GNCC Series presented by Maxxis UTV XC1 race during the third round of competition this season. The race was part of the rain-delayed Wiseco John Penton at Sunday Creek Raceway.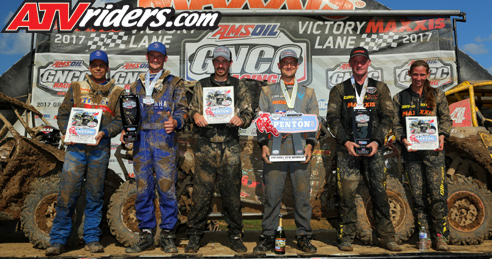 GNCC Racing Overall UTV Podium (left to right)
Cody Miller (2nd), Hunter Miller (1st), Tim Farr (3rd)
Hunter Miller, in a Can-Am, beat out his brother Cody, who finished second in a Yamaha. Tim Farr was third, marking his first GNCC podium this season, in his Can-Am, ahead of Sean Bogdan. Yamaha driver Walker Fowler was fifth, fresh off winning his eighth XC1 Pro ATV race of the 2017 campaign.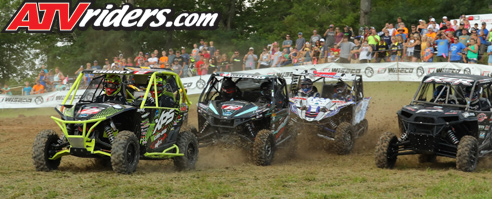 Can-Am's Kyle Chaney GNCC Pro XC1 UTV Holeshot, but the lack of 4WD caused him to spin out in turn two, which eventually lead to him not finishing the final lap & dropping out of the points lead
The event was held at the venerable track in southern Ohio and was rain delayed from its original date in May. With a mix of terrain, woods, a tamed-down motocross track and the well-known mulch mountain, the event has always been exciting and this weekend's race was no different. The racing surface was slicker and rougher than in year's past.
Hunter Miller was quick off the dead-engine start took the lead in the second turn from the front row when holeshot winner Kyle Chaney spun out and William Yokley was stopped behind him. From there, he led every lap, coming out of a tense battle with his brother in the waning laps to secure the victory.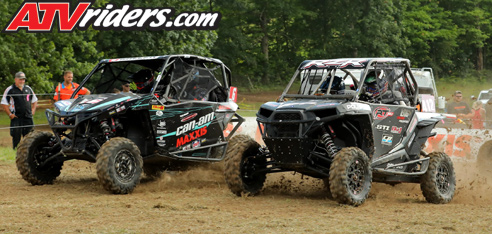 Can-Am's Hunter Miller took over the lead in the second turn
"I couldn't be happier being up here in first and second with my brother and that was an absolute battle," said Hunter Miller. "Cody was definitely letting me know he was there. At the beginning of the race, it was pretty slick and I'm not used to being the first one through it. So I just took my time and tried not to make any mistakes. The track was a lot tighter and a lot slicker, but my Can-Am was on rails."
With the victory, and combined with fourth and a second-place finishes in the first two rounds, Hunter Miller takes the points lead going into the summer break. He now leads his brother by five points before the UTVs get back on track in September.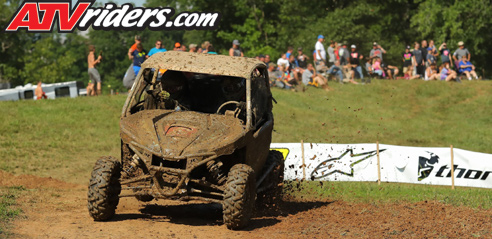 ELKA's Hunter Miller held the physical lead for nearly the entire race, but he didn't take over the time adjusted lead till the final two laps, which he held to the checkered flag for his first Pro UTV XC1 Win
"I don't want to think about the points too much," said Miller. "I've been improving every round. I just want to stay consistent and not get a DNF. It just takes one mistake and I'm out of it. I want to make sure I'm on the box every time. Cody has proven he's consistent, so if I make one mistake, that will put it in his hands."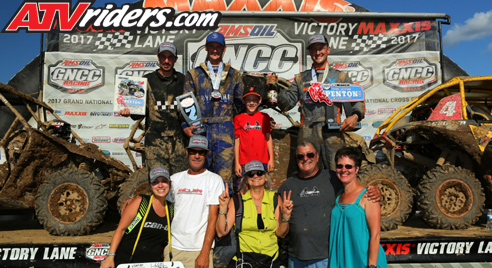 Hunter Miller & Cody Miller finished 1-2 on the Overall UTV Podium, which boosted Hunter into the points lead, just 5 points ahead of his brother, Cody, in the GNCC Pro UTV Championship points race