2017 Can-Am King of the Hammers
Johnson Valley, California
UTV / SXS Racing
February 8, 2017

Shannon Campbell Crowned King of the Hammers
KOH / King of the Hammers UTV Race Report
2017 Can-Am King of the Hammers KOH Links
Johnson Valley, CA (2/13/2017) – Monster Energy's Shannon Campbell led a trio of Campbell family members to victory in the Can-Am King of the Hammers presented by RCV. The Campbells' and their Ultra4Racing team made their debut in the UTV portion of the event pay off as father Shannon led his son Wayland, who finished second in the grueling event. Reid Nordin finished third, ahead of Erik Miller, with the top four all racing Polaris RZRs. Casey Currie was fifth in a Can-Am Maverick X3.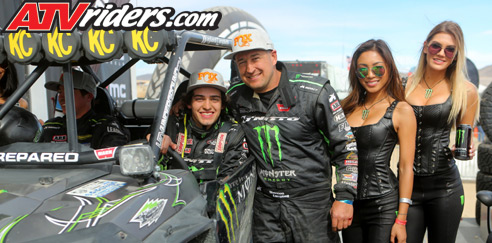 Wayland Campbell (left) & Shannon Campbell (right) claimed the top 2 spots on the podium, which was an impressive for this Father & Son in their UTV racing debut at the King of the Hammers
With near-perfect weather on the Wednesday race day, 75 UTVs took the start in front of thousands of spectators. The 115-mile course featured several of the difficult rock sections and elevation changes the King of the Hammers is known for, along with a long desert stretch that ran across a nearby military base.

The Johnson Valley, California Desert turned into Hammer Town with thousands of campers and people packing the valley for the week long King of the Hammers event
A huge turnout for this year's event was whittled down to 75 entries. Mitch Guthrie, Jr. won the pole, but in the end, it didn't seem to matter for the elder Campbell and his Monster Energy Polaris RZR. On the second lap, several racers were stuck in a bottleneck at the Aftershock section. Campbell got out front there and pulled a 15-plus-minute gap from that point forward, holding the lead for the final 30 miles. Shannon and Wayland Campbell went on to finish one-two again in the 4400 Unlimited Class car race on Friday.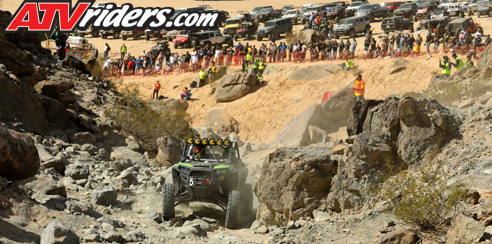 Monster Energy's Shannon Campbell charged his way up Chocolate Thunnder with 15 minute gap over 2nd place
"I never expected this," said Shannon Campbell. "I expected this guy (Mitch Guthrie, Jr.) was going to kill me. We almost wrecked every corner out there. The ruts are so big out there, we were on two wheels, even one wheel, the whole race. We never winched and Mitch really showed me how to run in the rocks. We pre-ran with him and he gave us a lot of help. The coolest thing is to beat him. He's like a six-time winner. This is something I've never done, this is my first race and it's quite the deal. This was the first UTV race for all three of us so it has been quite a week."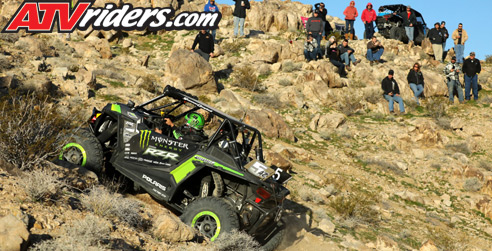 Polaris RZR's Shannon Campbell held on to claim the UTV Win on Wednesday & he backed it up with the 4400 Truck Win on Friday