Rodney VanEperen & CJ Greaves Sweep Crandon TORC
2017 TORC Off-Road Championship Round 6 Pro UTV Race Report
2017 TORC Series
Crandon Big House Brawl


Crandon, WI (6/26/2017) - Rodney VanEperen and CJ Greaves went two for two during the doubleheader Big House Brawl TORC Off Road Championship presented by AMSOIL UTV races at Crandon International Off-Road Raceway. VanEperen won his second consecutive Pro Modified race, while Greaves finished first again in Pro Stock. Both were driving Yamahas.
Monster Energy / Yamaha's Rodney VanEperen (left) & CJ Greaves (right) swept the wins at Rounds 5 & 6 of the TORC Series, and the pair have earned 7 combined win this season with Greaves still undefeated
With heavy rain overnight and more forecasted for the afternoon, race officials canceled qualifying and set both events by series points. Though the track had been muddy earlier in the day, it came in nicely at the start of the UTV events. The short course featured a dry-slick surface and some blue groove was even spotted toward the end of the Pro Modified final.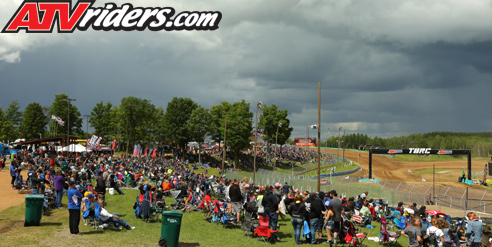 For the second straight day, a huge crowd of spectators showed up at Crandon despite rain in the forecast & several storms just missed the track to the north over the weekend during the day, but heavy rain did fall overnight Saturday night into Sunday, which cancelled qualifying
In Pro Modified, VanEperen took the lead at the start, holding off the Can-Ams of Chaney and Farr in a three-car battle on the first lap and he began pulling away as Farr and Chaney fought for second. On the restart after the mid-race competition caution, Chaney challenged VanEperen as Jason Luburgh moved into fourth in his Bikeman Polaris.
TORC Pro Mod SxS / UTV Podium (left to right)
Kyle Chaney (2nd), Rodney VanEperen (1st), Tim Farr (3rd)
On the final lap, the top four-VanEperen, Chaney, Farr and Luburgh-were nose to tail in the final corners, but VanEperen held on for his fourth victory in five races. Chaney finished a close second, ahead of Farr. Drew Schultz on a Polaris and Zac Zakowski's Yamaha completed the top five. Coming into the final turn, Luburgh went for it, but flipped just before the finish line. While he recovered to finish sixth, he inadvertently missed tech after the race and was disqualified.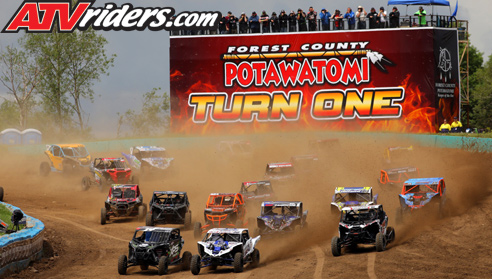 Yamaha's Rodney VanEperen grabbed the land rush Pro Mod UTV Holeshot
"I just can't get a cushion on these guys, but a win is a win," said VanEperen. "These guys run us so clean. I never have to worry about any of these guys doing anything dirty out here. I get a little too conservative and defend my lines. Come Bark River, we need to work on that."
VanEperen, Chaney and Farr have really been the drivers to beat all season. Chaney and Farr were well in contention until the checkered flag, something that has happened in several races this season.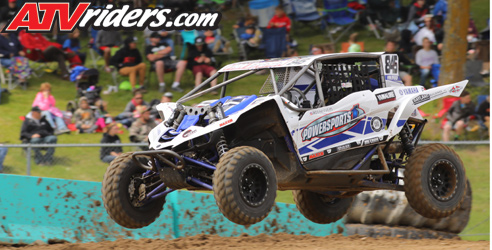 Yamaha's Rodney VanEperen secured his third straight win on Sunday, which moves him to within 14 points of Kyle Chaney in the points lead
"I have nightmares about Kyle Chaney and Tim Farr; It seems like every time I turn around one of them is there," said VanEperen of the two GNCC veterans. "We want to separate ourselves. The Yamaha does make the difference; they have a belt and we have a five-speed transmission and that sets us apart."