Bark River Throw Down TORC Pro UTV Race Report
Rodney VanEperen & CJ Greaves Take Wins at Bark River
Bark River, MI (7/15/2017) - For the sixth time this season Greaves Motorsports teammates Rodney VanEperen and CJ Greaves won their respective UTV races, this time during the TORC Off Road Championship presented by AMSOIL events at Bark River International Raceway. For Greaves, it continued his perfect streak in Pro Stock as he won his sixth consecutive race. For VanEperen, it was his fifth victory in six races. Both were driving Yamahas.

The biggest crowd of the season showed up to the Bark River TORC race on Saturday with the hillside and stands packed with spectators for Round 7 of the U.P. of Michigan Throw Down
The course was the longest yet on the TORC calendar at 1.5 miles. Wet conditions leading into the weekend followed by sun and warm temperatures resulted in a dry and dusty racing surface during the eight-lap races. The track quickly got into blue groove in both races making for exciting and fast racing.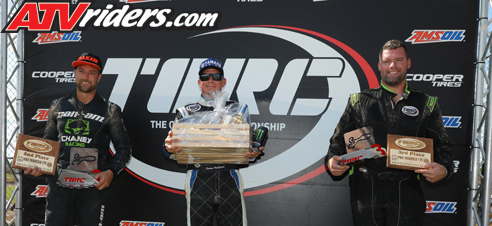 TORC Pro Mod SxS / UTV Podium (left to right)
Kyle Chaney (2nd), Rodney VanEperen (1st), Zac Zakowski (3rd)
In Pro Modified, Jason Luburgh set the fastest time in qualifying in his Polaris and took the holeshot. VanEperen was quick into the second corner and took the lead. From there, he began checking out, but he soon had company. Kyle Chaney, in a Can-Am, took second from Luburgh on the lap-five restart.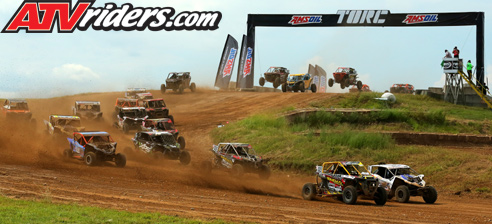 Bikeman Performance's Jason Luburgh was the fastest qualifier on Saturday, so he started up front along side of Rodney VanEperen
On the final lap, Chaney tried everything to pass VanEperen, but finished second for the sixth consecutive time and held the points lead. Zac Zakowski charged from 10th to finish third, his best effort this season, driving a Yamaha. Tim Farr, in a Can-Am, and Luburgh completed the top five.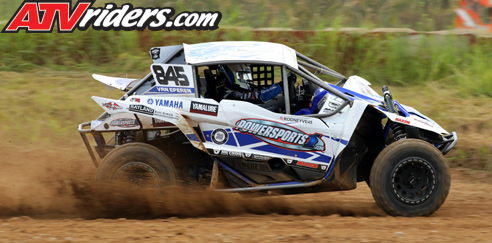 Yamaha's Rodney VanEperen held the lead for most of the race, but he was challenged by both Jason Luburgh & Kyle Chaney
"We keep eeking them out here, but these guys are keeping us honest," said VanEperen. "We have to go back and do our homework to get a little more out of this thing to see what we can do. It's fun racing and that's what the fans and the manufacturers want to see."
VanEperen worked hard on the final two laps to hold off Chaney. Chaney tried several lines in last three corners and crossed the line nearly side by side with VanEperen.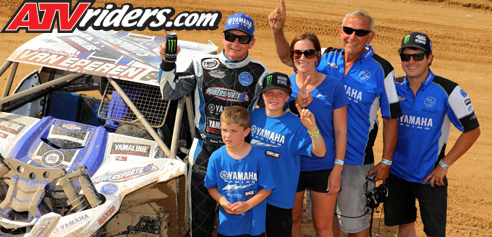 Yamaha's Rodney VanEperen secured his 5th Win of the season, but he is currently 2nd place in points behind Can-Am's Kyle Chaney
"Man I didn't realize it was that close at the end, but we'll take them any way we can get them," said VanEperen. "This is a driver's track here. To win you have to make less mistakes and that's what you want to see."