2017 WORCS Racing
Round #1 - Mesquite MX
January 8, 2017
Mesquite, Nevada

Beau Baron Wins 2017 WORCS Pro ATV Season Opener
WORCS Racing Round 1 Pro ATV Race Report
WORCS Racing - Round 1
ATV Links

Mesquite, NV (1/10/2017) – Beau Baron picked up right where he left off in the Rocky Mountain WORCS Series presented by Maxxis and Dirt Wheels by winning the 2017 WORCS Pro ATV season opener at Mesquite MX. The defending WORCS Pro ATV Champion beat out Robbie Mitchell and Mike Sloan for the victory. Collins Webster was fourth, ahead of Pro Rookie, Jerry Maldonado rounding out the top five.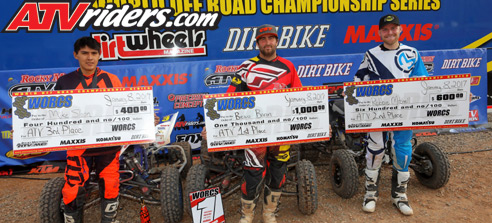 WORCS Racing Pro ATV Podium (left to right)
Mike Sloan (3rd), Beau Baron (1st), Robbie Mitchell (2nd)
The event was held on expanded course, incorporating the technical and big air motocross circuit with the expansive sand whoops in the hills surrounding the track. Temperatures in the mid-50s made for perfect racing conditions, but the sand whoops took its toll on the racers and especially their hands.
CST's Beau Baron fell back to third early on, but he held a consistent pace. Running in clean air out of the dust, Baron quickly picked off Sloan and then took the lead from Mitchell late in the race.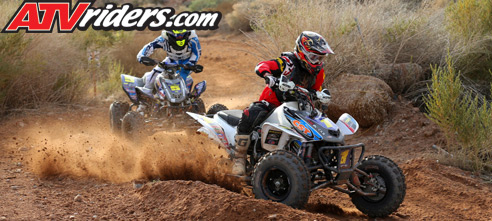 CST's Beau Baron made the pass on Robbie Mitchell in the 7th lap of the 10 lap race to take the lead
"I had a really tough time hanging with Robbie at the beginning," explained Baron. "I followed Robbie for a few laps, then Sloan got past me. I got some clean track, made up time a lap at a time and then I took the lead for good. This is probably the most brutal track we go to, but Roll Design did a great job tuning the Elka shocks and my hat is off to Curtis Sparks for building the best engines. These engines are legendary and I proved it again."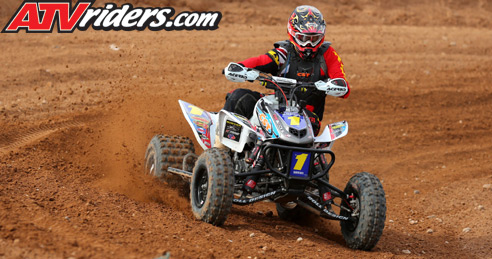 ELKA's Beau Baron secured the WORCS Pro ATV season opener win
DWT's Robbie Mitchell challenged Baron, but settled for second in the end after holding an early lead in the race.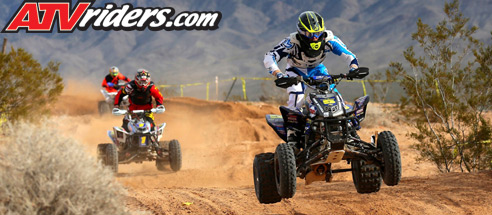 Zbros Racing's Robbie Mitchell grabbed the early lead in the first lap with Beau Baron & Mike Sloan in chase
"I was trying to be aggressive at first and I'm not sure that was a good idea," said Mitchell. "I was feeling good and I led most of it. I tapered off a little bit at the end and Beau came on strong. So we'll have to go home and do a little homework so we can come back strong at Primm."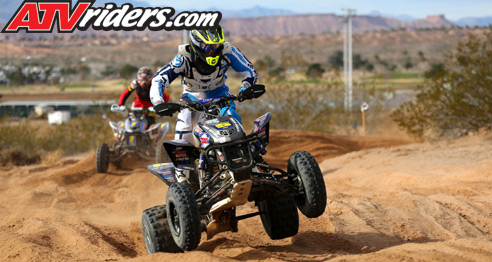 LMR Racing's Robbie Mitchell finished in the 2nd spot on the podium