2017 WORCS Racing
Rounds 1 & 2 - Buffalo Bill's
January 21-22, 2017
Primm, Nevada

WORCS Racing SXS World Finals Race Report
Cody Bradbury Takes SxS World Finals Overall Pro Win
SXS World Finals
WORCS Rounds 1 & 2

Primm, NV (1/26/2017) – Rain soaked, mud covered and cold, Cody Bradbury toughed it out to finish first overall in SXS World Finals at Buffalo Bill's Resort and Casino. The special doubleheader SXS-only event was round one and two of the Rocky Mountain WORCS Series presented by Maxxis. Cody Bradbury, driving a 2017 Polaris RZR Turbo, beat out defending WORCS Pro Production Champion David Haagsma, who was second overall, ahead of Ryan Piplic, Larry Heidler and Keith Johnson.

SXS World Finals Pro Class Winners (left to right)
Cody Bradbury (Pro Production) & Nic Granlund (Pro Stock)
In UTV Pro Stock, Nic Granlund recorded the overall win in a Yamaha. Ray Bulloch rebounded from a hard crash in Sunday's race to finish second overall, followed by Beau Baron, Shelby Anderson, and Jeff Obering.

The Overall Winner in each class took home these Aluminum Trophies
The first-ever SXS-only event for WORCS was held on two days on two different race courses. Saturday's race was held on the Lucas Oil short course, while Sunday's event was held on WORCS standard off-road desert track. The two finishes were combined similar to a two-moto format, as well as fastest time, to determine overall winners.

On Saturday, the weather was perfect for racing with blue skies
Weather played a huge role in the outcome. Friday's qualifying was rained out, forcing organizers to set starting position by draw for the short course race. That race was held under beautiful clear skies with temperatures in the mid-50s. Conditions changed significantly Sunday with heavy rain, turning the race into a battle through the mud, water and frigid temperatures.

On Sunday, the weather was dramatically different than Saturday with heavy rain & cool temperatures
Holz Racing's Cody Bradbury overcame the weather, the track and the competition to score the overall victory, earn $2,500 and get the bragging rights of the overall champion. Bradbury just lost out to Piplic in the short course race to finish second. In Sunday's race, he took the lead from Piplic on the first lap and never looked back. Bradbury joined Polaris' factory team this year.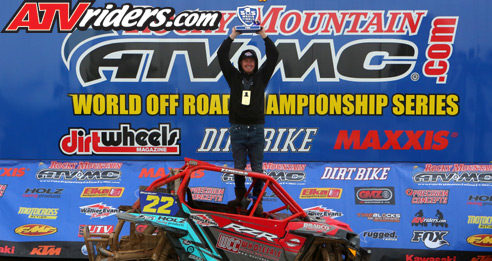 Walker Evans Racing's Cody Bradbury took home an extra $2,500 by edging out Nic Granlund for the Overall Pro SxS Win
"Piplic and I were in the 2017 Polaris RZR Turbos and as soon as the boost hit, we were four cars out in front of everyone," said Bradbury. "I snuck under Piplic and then ran the first lap flat out to see where everyone was running. I had a good gap from there and cruised in. It was rough on Sunday. It was important to get a good start because the track was beat. There were rivers running down the rhythm lanes.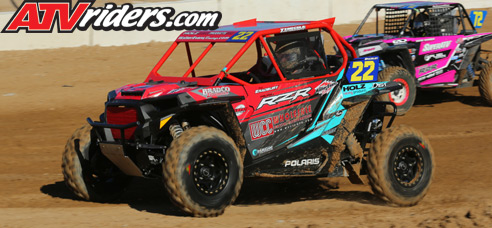 GBC's Cody Bradbury finished 2nd on Saturday in the Lucas Style Race