2017 WORCS Racing
Round #2 - Buffalo Bill's
January 29, 2017
Primm, Nevada

Beau Baron Takes Second Straight WORCS Win
WORCS Racing Round 2 Pro ATV Race Report
WORCS Racing - Round 2
ATV Links

Primm, NV (1/30/2017) – CST's Beau Baron won his second consecutive Pro ATV race during round two of the Rocky Mountain WORCS Series presented by Maxxis and Dirt Wheels. Baron took the lead on the final lap to win the race ahead of Mike Sloan. Pro-Am class winner Tyler Benally finished third overall, marking the first time in WORCS history a Pro Am rider finished on the overall podium, and Logan Huff and Bryce Peart rounded out the WORCS Pro-AM ATV Podium.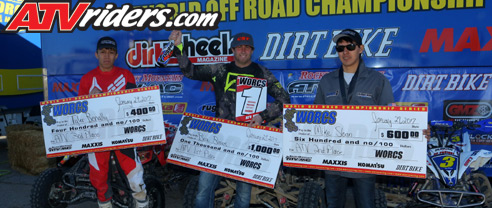 WORCS Racing Pro ATV Podium (left to right)
Tyler Benally (3rd), Beau Baron (1st), Mike Sloan (2nd)
With beautiful weather all weekend and just enough moisture in the track to keep the dust down, the racers were ready to take on Primm's notoriously fast and rough course. The course was lengthened by over two miles for the pro race with a rocky section added that still had some water puddles left over from the rain the previous week, which added to the challenge for the competitors.
Zbros Racing's Robbie Mitchell grabbed the holeshot with Mike Sloan & Beau Baron in chase for several laps
DWT's Robbie Mitchell grabbed the holeshot on the dead engine start and took the lead with Sloan and Baron in tow. Baron pitted early and was quickly back on Mitchell's tail. Mitchell, who didn't pit, couldn't hold off Baron's charge on the final lap, and Baron took the lead and went on to win the race. Mitchell subsequently ran out of fuel on the final lap and then was penalized one lap for an illegal refueling procedure.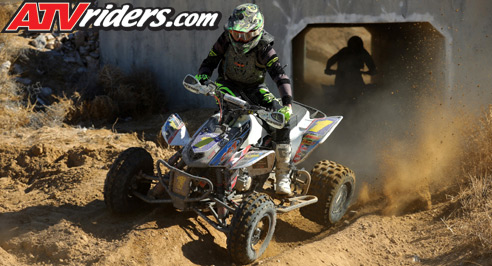 Sparks Racing's Beau Baron charged his way into the lead in the final lap
"I ended up pitting earlier than everyone else and that worked to my benefit," said Baron. "I got to have some clear track and caught back up. I ended up passing Robbie, I looked over and his bike was sputtering. All of the sudden, he was out of gas."
ELKA's Beau Baron, said every year the competition gets steeper. This year is no exception. "For me to win right now is great, because I haven't even gotten my momentum going," said Baron. "These guys have really picked up the pace. They are hauling ass, so I have to stay on my toes and do the best I can to keep them off my heels."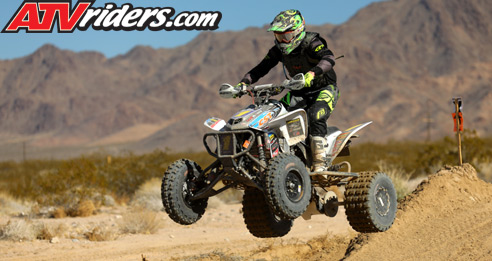 CST's Beau Baron secured his 2nd straight win in the WORCS Pro ATV class