2017 WORCS Racing
Round #3 - Honolulu Hills
February 19, 2017
Taft, California

Beau Baron Wins Third Straight Honlulu Hills WORCS
WORCS Racing Round 3 Pro ATV Race Report
WORCS Racing - Round 3
ATV Links

Taft, CA (2/25/2017) – CST / ELKA's Beau Baron got out front early and went on to win his third consecutive Rocky Mountain WORCS Series presented by Maxxis and Dirt Wheels race in the Pro ATV class. The race was held at Honolulu Hills Raceway. DWT's Robbie Mitchell was second, ahead of Josh Row, who made his return to WORCS competition after a two-year hiatus. Collins Webster and John Rickerd completed the top five.
WORCS Racing Pro ATV Podium (left to right)
Robbie Mitchell (2nd), Beau Baron (1st), Josh Row (3rd)
Though the track was inundated on Friday by heavy rains that we part of Winter Storm Lucifer, by Sunday the track was perfect for racing. With beautiful weather in the forecast, the ATVs took the combination off road, motocross track.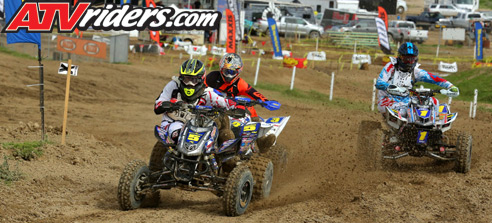 Zbros Racing's Robbie Mitchell grabbed the holeshot for the 2nd straight time with a dead engine start
LMR Racing's Robbie Mitchell grabbed the holeshot with another adept dead engine start, but Baron quickly made the move on his Honda on Mitchell and took the lead. Mike Sloan challenged Baron toward the end of the race before engine problems took him out of the race. From there, Baron cruised to an easy victory.
CST's Beau Baron quickly charged his way into the lead in lap one
"I just hung it out a little more on the first lap and I got a gap," explained Baron. "I knew it was going to be tough to see because I saw a little dust coming up so I knew I had to get up front early. I ate dirt at the last couple of races, and I didn't want that to happen here. I got out front and did what I could. Then Sloan had a miracle lap and he reeled right in on me before he had to pit. I'm really happy with today's results."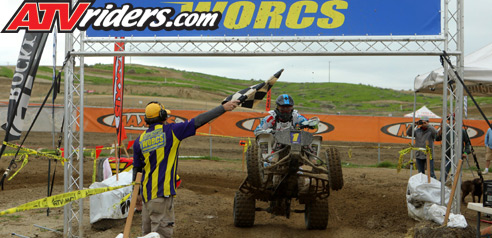 ELKA's Beau Baron secured his 3rd straight win in the 2017 WORCS Pro ATV class
Robbie Mitchell, the unofficial WORCS "King of the Dead Engine Start," lived up to his nickname with another holeshot. However, he was blessed to even be on the starting line after he had to scramble to get his Honda ready for action just prior to the race.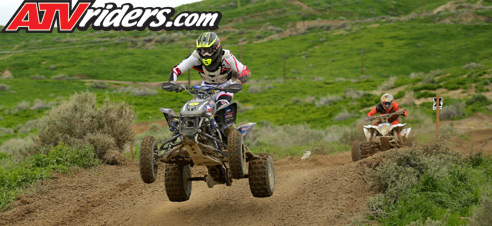 DWT's Robbie Mitchell battled with Mike Sloan early on for the 2nd spot, but Sloan dropped out of the race in the final laps, which allowed Mitchell to cruise to a 2nd place finish
"I struggled today," said Mitchell. "I had to switch carburetors just to make my bike run at all. The Lindsay Machine Racing engine is awesome on dead engine starts. It holds up, too. I just figured out that we've used the same engine in six races."