2017 WORCS Racing
Round #5 - The Orleans Casino
April 2, 2017
Las Vegas, NV

Ryan Piplic Hits Pro SXS Jackpot at Las Vegas WORCS
Beau Baron & Nic Granlund Round Out WORCS Pro SXS Podium
Las Vegas, NV (4/4/2017) – Ryan Piplic survived a chaotic Rocky Mountain ATV MC WORCS Series presented by Maxxis and Dirt Wheels Pro SXS race to earn his second victory of the year at The Orleans Casino. Beau Baron finished second, followed by Nic Granlund. Points leader David Haagsma was fourth and Shelby Anderson was fifth.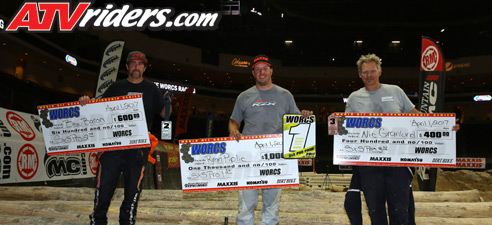 Round 6 WORCS Racing Pro UTV Podium (left to right)
Beau Baron (2nd), Ryan Piplic (1st), Nic Granlund (3rd)
Ray Bulloch won the Pro Stock race, ahead of Corbin Wells., and Shelby Anderson claimed the final spot on the podium, making it the second consecutive race that a woman racer finished on the Pro Stock podium.
The unique event was held in the arena and parking lots surrounding the casino. The track featured a varied terrain comprising dirt, asphalt, logs, tractor tires, a sand pit and even a motocross style double. The race was started in rows of four based on points.

Maxxis' David Haagsma grabbed the WORCS Pro SXS Holeshot
Carnage was the name of the game as David Haagsma took the holeshot from the front row, but lost the lead to Cody Bradbury on the first lap. Bradbury cut down a tire, handing the lead to Haagsma before he began experiencing issues and faded back out of the lead. From there, Piplic, who started on the third row in his Polaris RZR, began a time battle with Baron and his Polaris. In the end, Piplic just edged Baron out for the victory.
FOX's Ryan Piplic charged his way into time adjusted lead
"I had mixed emotions coming into this race because I didn't do well in Las Vegas last year," said Piplic, who was the only racer that kept his headlights on his car after the last race, which gave him an advantage in the dimly lit parking lots. "I was really surprised at how quickly I was picking people off. The challenge wasn't in the obstacles. It was in the asphalt. It was really slick and if you didn't do it right, you'd spin out."
Ryan Piplic rebounded from the last race at Lake Havasu, where bad luck seemed to hit him at ever turn. He finished 15th there, though he is now right back in contention for the championship, 30 points behind Haagsma.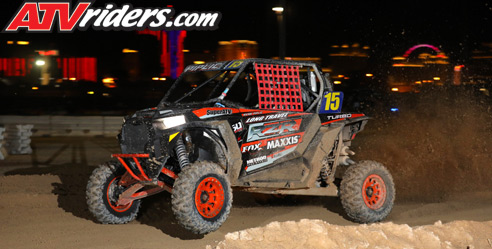 Method Wheel's Ryan Piplic was the only Pro SXS Racer with headlights, which surely made a difference for him in the dark conditions
"Coming back with a win here and get a boost back up in the points will really tighten things up," said Piplic. "Coming here and having a flawless race makes me really excited about how it turned out."