2017 WORCS Racing
Round #7 - Sand Hollow
April 23, 2017
Hurricane, Utah

Josh Row Takes Pro ATV Win at Sand Hollow WORCS
WORCS Racing Round 7 Pro ATV Race Report
WORCS Racing - Round 7
ATV Links

Hurricane, UT (4/24/2017) – Josh Row returned to the site of his first Pro ATV win and won again at Sand Hollow State Park. It was Row's second career WORCS Pro ATV victory, his first also coming at Sand Hollow. Beau Baron finished second, followed by Mike Sloan. Robbie Mitchell and Collins Webster rounded out the top five. Bryce Peart won the Pro-Am race, his first in WORCS competition.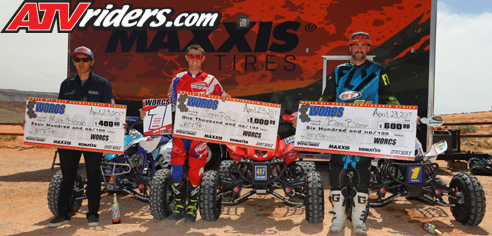 WORCS Racing Pro ATV Podium (left to right)
Mike Sloan (3rd), Josh Row (1st), Beau Baron (2nd)
The ATVs started with the motorcycles on the track, which featured deep sand whoops, rocks and boulders and several technical sections. Mitchell, long the king of WORCS dead engine starts, snagged another holeshot, but overcooked a turn on the first lap and flew over the bars of his machine. Row took the lead from there and never looked back.

DWT's Robbie Mitchell grabbed the Dead Engine start Holeshot
"I got out to a good start and made passes really quickly," said Row. "I checked out on everyone, hit my lines and rode smart in this sandy race. I don't know what it is about the sand. I just feel so confident and it's so fun. I was hoping I could be a podium contender today, so it was pretty cool to be on top. It's been two years since I won, and they both came at the same track. Beau had a big hand in getting me to come back to WORCS."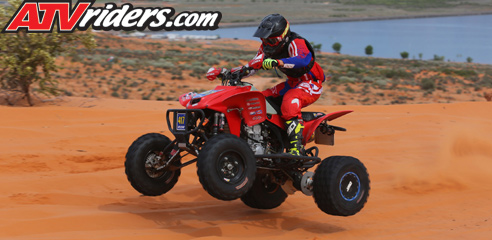 Josh Row charged his way into the early lead at the Sand Hollow WORCS, which he held to the checkered flag for the win
Baron, Sloan and Webster all battled it out for second during the waning laps of the race. Sloan's machine got stuck in the scoring chute, while Row got away. After Sloan got going again, Baron made the pass for second, but Row was too far ahead for him to mount a charge. The runner-up finish allowed him to pad his points lead to nearly a full race.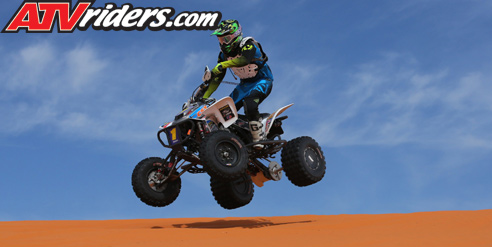 CST's Beau Baron battled his way into the 2nd spot
"This course is hairy for me, so to come out with a second, I'm pretty happy," said Baron. "Josh had a great ride and I'm thankful to finish the race. I was hitting this whoops section and I stalled my bike. Mike and Collins caught me. Mike got around me and we duked it out for a lap before I got back him. Sloan got stuck in the scoring chute and we got held back 30 seconds. At that point, I was just trying to survive."