2017 WORCS Racing
Round #7 - Sand Hollow
April 24, 2017
Hurricane, Utah

Cody Bradbury Takes Sand Hollow SXS Pro WORCS Win
Ryan Piplic & David Haagsma Round Out WORCS Pro SXS Podium
Hurricane, UT (4/24/2017) – Cody Bradbury got back to his winning ways in the Rocky Mountain ATV MC WORCS Series presented by Maxxis and Dirt Wheels Pro SXS Class, finishing first in the SXS Pro race at Sand Hollow State Park for the second straight year. Driving a Polaris RZR Turbo borrowed from RJ Anderson, Bradbury beat out Ryan Piplic, David Haagsma, Ray Bulloch and Corbin Leaverton for the victory. Bulloch won the Pro Stock race, followed by Matt Hancock, Doug Eichner, Beau Baron and Piplic.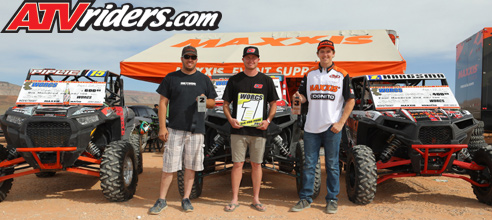 Round 7 WORCS Racing Pro UTV Podium (left to right)
Ryan Piplic (2nd), Cody Bradbury (1st), David Haagsma (3rd)
Windy conditions in the area died down for the Saturday race at one of the most scenic racing locales on the tour with its coral colored sand and sandstone rock faces. It's also one of the roughest tracks, featuring deep sand whoops, buried rocks and racing lines that seemingly change with every lap. The track was shorter than in year's past and featured more laps giving spectators a much better view of the racing action.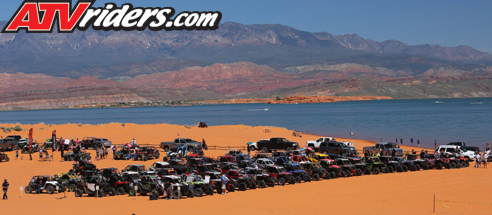 Sand Hollow State Park is one of the most scenic race locations in the country with the race starting along the lake before heading up into the sand dunes
Maxxis' Ryan Piplic snagged the holeshot in the single row start and two battled it out. Piplic made an inside move and two wheeled it. Bradbury took advantage, hitting Piplic's car as he took the lead en route to his second victory of the season. Bradbury came back from a rough crash in last weekend's Best in the Desert Series UTV World Championship in Nevada that totaled his car. RJ Anderson loaned him a virtually identical RZR and Bradbury was quickly up to speed.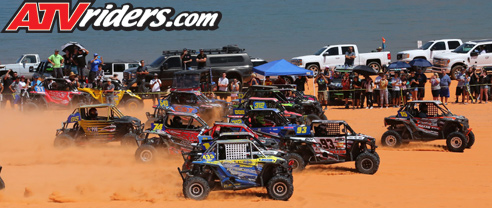 Maxxis' Ryan Piplic grabbed the WORCS Pro SXS Holeshot
"It's been a rough go and I have to give thanks to RJ Anderson and the RJ 37 Off Road Team," said Bradbury. "Everything is the same except the tires, so I put a set of my GBC Dirt Commander Tires on it and everything was hooking up really well. I have to give it up to Ryan Piplic. We raced clean back and forth. He had a mistake over a berm and I got into him, but we had a fun battle."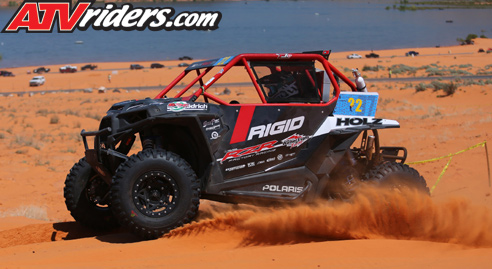 Walker Evans Racing's Cody Bradbury borrowed RJ Anderson's Polaris RZR that he won the UTV World Championship with the weekend before Sand Hollow since Bradbury wrecked his RZR at the event
Walker Evan Racing's Cody Bradbury nearly missed the race after his crash last weekend. He credited Holz Racing Products for saving his life in the tumble. Anderson actually won the World Championship in the same car he drove here.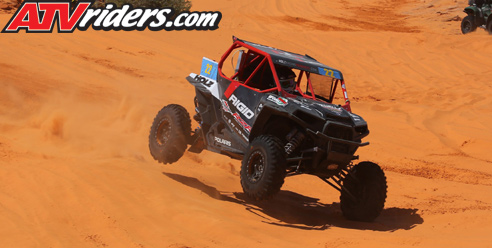 HOLZ Racing's Cody Bradbury held off Ryan Piplic to secure the Pro SXS WORCS Win at Sand Hollow for the 2nd Straight Year
"I had a bad crash at the UTV World Championship and I actually debated even coming here," said Bradbury. "I caught a berm in the dust and went end over end six times, but the Holz Racing Products cage really did its job and held up. I am still sore."