2017 WORCS Racing
Round #8 - Iron Mine Race Park
May 28, 2017
Cedar City, Utah

Beau Baron Takes Iron Mine WORCS Pro ATV Win
WORCS Racing Round 8 Pro ATV Race Report
WORCS Racing - Round 8
ATV Links

Cedar City, UT (5/27/2017) – Beau Baron came into the Rocky Mountain ATV MC WORCS Series present by Maxxis and Dirt Wheels Pro ATV event at Iron Mine Race Park a little bummed out. Having finished second in the last two races, he wanted to get back on the top step of the box. He did so, in dominating fashion, riding his Honda to his fifth victory of the season. Mike Sloan finished second on a Yamaha, ahead of the Honda of Robbie Mitchell. Collins Webster and John Rickerd completed the top five.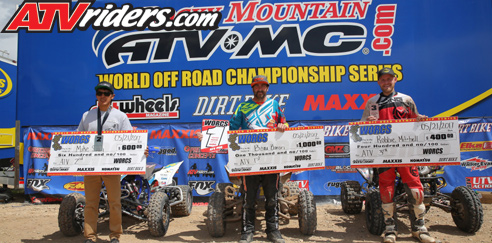 WORCS Racing Pro ATV Podium (left to right)
Mike Sloan (2nd), Beau Baron (1st), Robbie Mitchell (3rd)
With beautiful weather, temperatures in the mid 60s and a slight breeze plus a record crowd, the venue was poised for perfect racing. That breeze was welcome as the track, especially on the back section, was dusty. With a gated start, the ATVs took on the fast and whooped up track that featured Iron Mine's awesome motocross section as well as an endurocross area with logs and tires.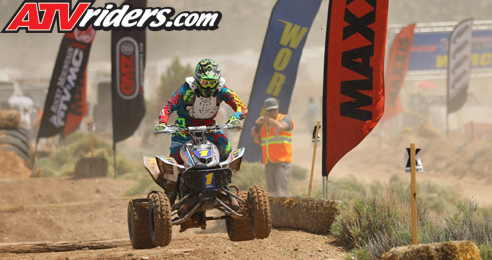 Beau Baron grabbed the holeshot & quickly pulled away from the pack
For Baron, he had something to prove and that was obvious right from the start. Taking the lead with his first holeshot of the season, Baron was on a mission. He made a statement with the victory and now holds a 30-point lead in the title chase.
Sparks' Beau Baron lead from start to finish to secure his 5th win of the season
"I rode relaxed the whole time and rode my own race," said Baron. "I had a really good time and a lot of fun. These hard-pack slick tracks suit my riding style and it showed. I've been a little bit down lately so I just wanted to put my head down, hammer it out and get another win."
Sloan shook off bad luck experienced early in the season to record his second consecutive podium. After coming off the gate third, he quickly moved up to second and followed Baron throughout the race.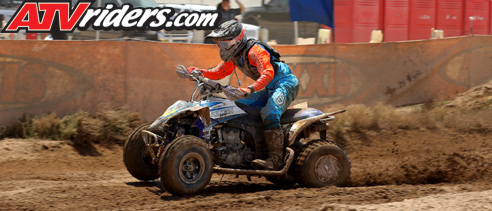 STI's Mike Sloan claimed the 2nd spot on the WORCS Pro ATV Podium
"It feels good to get closer to the top step of the box," said Sloan. "I ate some dust and made my way to second. I stayed behind Beau and kept nailing my lines. I got a good solid second and I'm pretty pumped about the ride."
Mitchell scored his first podium since his win at the Orleans Casino and had to work for it. Fighting ignition issues all race, he still held onto third. The Utah native dedicated the finish to a new baby that is due just after Thanksgiving.
DWT's Robbie Mitchell flying high over the high speed jumps on the back side of the Iron Mine WORCS track
"I had an electrical problem all weekend, and I stayed up late last night trying to work on it, but it still bogged down at the start," said Mitchell. "I struggled with the off-road section yesterday so I made some suspension changes and the bike worked awesome. I guessed and it worked so I'm pretty happy today."
::CONTINUED::