2017 WORCS Racing
Round #9 - Glen Helen Raceway
June 18, 2017
Devore, California

Nic Granlund Sweeps Glen Helen WORCS Pro SXS Wins
Beau Baron Takes Over WORCS Pro Stock Points Lead with Podium
Devore, CA (6/20/2017) – Nic Granlund made history during the Rocky Mountain ATV MC WORCS Series presented by Maxxis and Dirt Wheels SXS events at Glen Helen Raceway winning both the Pro and Pro Stock races in a Yamaha YXZ 1000. His victory in the Pro class was the first for the Yamaha SXS. Ryan Piplic finished second in Pro, ahead of David Haagsma, Beau Baron and Jake Shirey.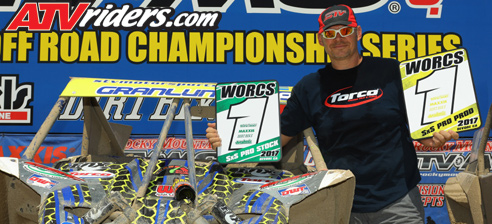 STV / GBC's Nic Granlund claimed both WORCS SXS Pro & Pro Stock Class Wins in the Yamaha YXZ 1000R at Glen Helen Raceway
WORCS officials ran the Pro Production race on Saturday, followed by the Pro Stock race on Sunday, a reversal from previous events. Both days were hot with temperatures approaching 100 degrees at the green flag. The track featured Glen Helen's renowned motocross track, as well as several other obstacles, including an endurocross section and narrow off road areas.

A huge crowd of racers & spectator turned out at Glen Helen despite the triple digit heat over the Father's Day weekend
In the Pro race, Granlund ran away with the race from the second row. Piplic charged out of the gate from the front row. Hobbled by a wrist injury, he held off Haagsma to finish first, physically, but Granlund won on adjusted time.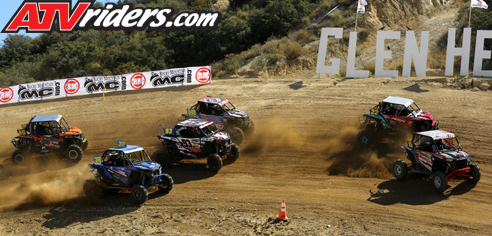 Maxxis' Ryan Piplic grabbed the WORCS Pro SXS Holeshot in his Long Travel Industries' Polaris RZR XP Turbo
"Starting on the second row, I was a little worried because the track is fast, but a little tight," said Granlund. "On the second lap I was behind Randy Romo coming up the face of a big jump and he checked up. I came in a few feet short on the landing, and it knocked the wind out of me. It broke my seat and it took me a half a lap to get back. The next lap, Romo got a flat tire and I got past him. Then I just started driving hard."
DWT's Nic Granlund battled with Randy Romo early on in the WORCS Pro SXS race
Though his Yamaha features a naturally-aspirated three-cylinder engine in a class that allows turbocharging, Granlund said he didn't feel low on power. The reliability of the engine definitely proved to be the key to victory.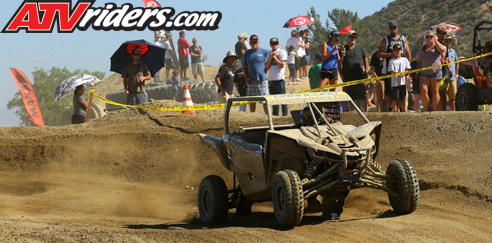 TORCO's Nic Granlund secured the Pro SXS win on adjusted time to claim Yamaha's first WORCS Pro SXS win
"Having the Yamaha, we backed down the power a little bit, but we're still just as fast as the Polaris turbos," said Granlund. "We wanted the car to be reliable and it was."