2017 WORCS Racing
Round #10 - Glen Helen Raceway
September 10, 2017
Devore, California

Glen Helen WORCS Pro SXS Race Report
Cody Bradbury Takes Pro SXS Win, Matt Hancock Wins Pro Stock
Devore, CA (9/12/2017) – Cody Bradbury and Matt Hancock won the Pro SXS races during the Rocky Mountain ATV MC WORCS Series presented by Maxxis and Dirt Wheels events at Glen Helen Raceway. Bradbury won his third SXS Pro race of the season, while Hancock recorded his first victory in the Pro Stock class.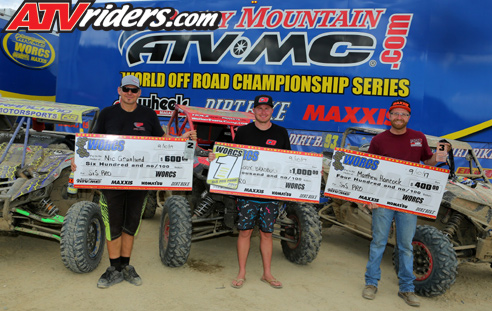 Round 10 WORCS Racing Pro UTV Podium (left to right)
Nic Granlund (2nd), Cody Bradbury (1st), Matt Hancock (2nd)
Temperatures in the mid 90s and a nice breeze kept dust to a minimum as the SXS racers took on a brand new layout for the weekend's events. The track incorporated parts of the Glen Helen course, the Lucas Oil track and the REM Course. The circuit was run in reverse with from the Summer race along with some new sections added as well.
In the Pro SXS race, Ryan Piplic grabbed the holeshot in his Polaris, but Bradbury and Hancock were on either side of him coming into the first turn. Piplic's ride soon suffered a broken axle, handing the lead to Bradbury, who led the rest of the way.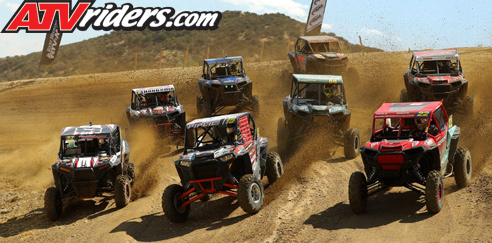 For the second straight race, Maxxis' Ryan Piplic grabbed the WORCS Pro SXS Holeshot in his Long Travel Industries' Polaris RZR XP Turbo
Hancock and Nic Granlund were both awarded second-place finishes due to an issue regarding a supercharger on Granlund's Yamaha. Series organizer Sean Reddish explained that there was some confusion in allowing Granlund to run the supercharger and he didn't want to needlessly penalize anyone.
"After reviewing the information from technical inspection and the conflict from what was authorized by our technical inspector and our rulebook, the fairest outcome was not to penalize Nic Granlund," explained Reddish. "We also didn't penalize anyone behind him, so we awarded two second-place finishes for points and moved everyone else up one place. We have revised our rulebook to allow superchargers in the Pro class. This was our intent from the beginning, but due to an oversight, it wasn't published correctly."
David Haagsma was third and extended his lead in the title chase to 20 points. Randy Romo finished in fourth followed by Corbin Leaverton.
Bradbury, who crashed hard in the Pro Stock race on Saturday, got a sense of redemption by winning the Pro SXS race. His win, combined with Piplic's ninth-place finish, puts him well in the thick of the points chase with just one race left.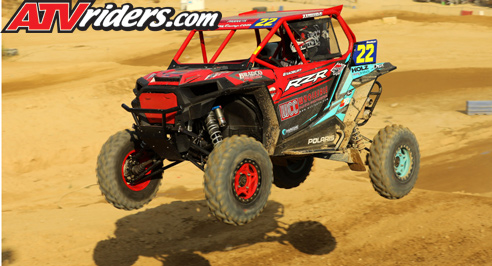 Holz Racing's Cody Bradbury charged his way into the lead in the SXS Pro Class
"I lined up way outside and decided if I got a good jump I'd go for it," said Bradbury. "I grabbed the holeshot and ran some solid laps. Ryan and Matt were giving me a good run. Nic and Corbin were right there. This is great for me after yesterday's catastrophe. I just wanted to go out and have a solid finish. That's now three wins this year. The turbo suits me better than the stock car. I like having more horsepower."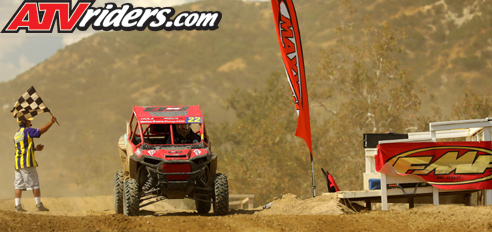 Cody Bradbury claimed his third win of the season in the SXS Pro Class