Anza, CA (11/8/2013)
- In 2009, Yamaha released the YFZ450R, which replaced the original YFZ450. Now, five years later, Yamaha's championship winning Yamaha YFZ450R has received many upgrades for 2014.
ATV sport riding and motocross racing reached its peaked in 2008, and when the economy began to crumble, many manufacturers scaled back their sport ATV lines, and some threw in the towel all together; but not Yamaha, which has been one manufacturer who has stayed true to its sport ATV line and offered continued upgrades. Something else we find that is noteworthy is that Yamaha has moved much of its assembly to the USA, including that of the YFZ450R.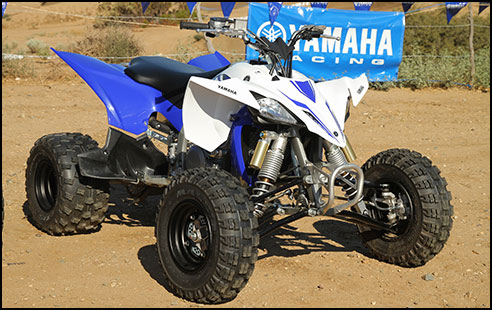 2014 Yamaha YFZ450R has new styling for better ergonomics along with increased engine performance along with a new A&S clutch system to name a few
Now with the sport market beginning to make a comeback, Yamaha is again raising the bar on the YFZ450R. The manufacturer has received quite a bit of input from racers such as Chad Wienen, Thomas Brown, Dustin Nelson and Walker Fowler, and made several improvements to the 2014 Yamaha YFZ450R.
Since there have not been many sport quad releases that revolve around the racing aspect, it has been a while since we were invited to a motocross facility to test out a new sport ATV, but we were delighted at the opportunity provided by Yamaha to test the YFZ450R at The Ranch facility in Anza, CA.

The 2014 Yamaha YFZ450R ride event was hosted at The Ranch Motocross Facility in Anza, California
The Ranch features several motocross tracks, all with varied skill levels and challenges. The course we were to ride was a good mix of jumps, corners, ruts and just about anything one would encounter on a motocross track, which would be a good test for the new 2014 Yamaha YFZ450R.

Pro ATV Racers Chad Wienen, Thomas Brown, Dustin Nelson, & Walker Fowler made easy work of the track at The Ranch on stock 2014 Yamaha YFZ450R ATV Models
We were also happy to see that Chad Wienen, Thomas Brown, Dustin Nelson and Walker Fowler were in attendance for our test ride at The Ranch. The four pro racers took to the track on bone stock machines, and they made the track look easy as they launched over everything on the track with ease, so we were very excited to get out on the track and give the improved 2014 Yamaha YFZ450R a try.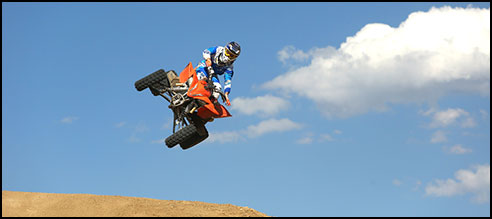 Walker Fowler throws down a huge whip on the 2014 Yamaha YFZ450R ATV