Valcourt, Québec (6/1/2017) - Can-Am announced its 2018 Maverick X3 UTV model line-up. In another thrilling step in its effort to change the game in the off-road world and take over the super-sport segment of the side-by-side vehicle industry, Can-Am Off-Road has introduced the most powerful factory-built side-by-side vehicle on the market.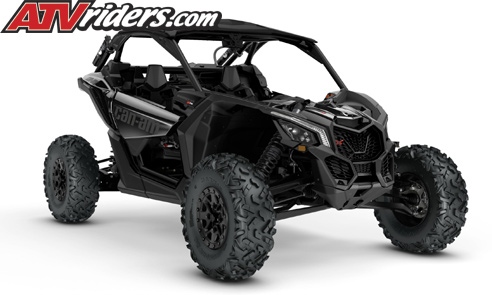 2018 Can-Am Maverick X3 X rs Turbo features 172 HP, which is 12 percent more horsepower
The turbocharged 172hp 2018 Can-Am Maverick X3 Turbo R side-by-side vehicle family features the same defiant, precise and powerful genetics, but raises the bar and redefines the super-sport side-by-side category by delivering 12 percent (+18hp) more horsepower and 10 percent added torque for unprecedented performance. The new flagship side-by-side vehicle can go from 0-60 mph in a mind-boggling 4.4 seconds, making it the fastest accelerating factory-built side-by-side vehicle on the market, period!
The additional power is the result of resolute engineering and devotion to performance, one key pillar of all Can-Am vehicles' DNA. The intercooler and fan were redesigned to maximize heat transfer (upwards of 49 percent more heat flow). With horsepower increase, a new fuel pump was added to create more volume to support the new power.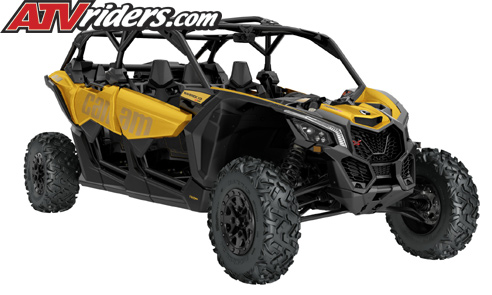 2018 Can-Am Maverick MAX X3 Turbo R
In addition to the market-leading innovation and class-leading performance, the new Maverick X3 Turbo R family provides consumers with a fantastic value, as price did not increas (in the US) related to this sizeable 18hp power upgrade. The 2018 Maverick X3 Turbo R and MAX X3 Turbo R packages are: X3 (base), X3 X ds and X3 X rs. The new model year also means new color offerings and components. To meet consumer demand, all Maverick X3 X rs vehicle packages (two and four-seat) now come standard with a factory-installed, retractable 4-point harness system.
The Can-Am Maverick X3 side-by-side vehicle family also now includes the 120-hp Maverick X3 Turbo side-by-side, a market point-of-entry vehicle that offers more horsepower than competitive vehicles in its price point. The new Maverick X3 Turbo family, offered in two-seat and MAX packages, also arrives with unbeatable value (starting at less than $20,000 USD in the US; two-seater) while including all the revolutionary X3 DNA.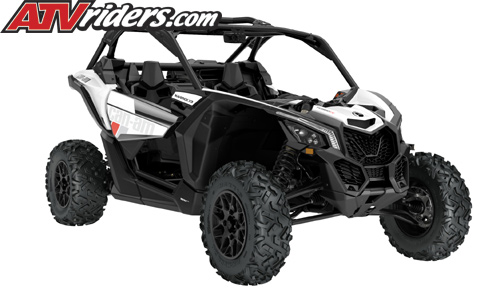 2018 Can-Am Maverick X3 Turbo Base Model
The features and benefits include the industry's leading long-travel suspension (20-in. / 50.8 cm, front and the rear), the Rotax ACE turbocharged engine (no intercooler) and unparalleled design. Maverick X3 Turbo and Maverick X3 Turbo R SSV families
About BRP
BRP (TSX: DOO) is a global leader in the design, development, manufacturing, distribution and marketing of powersports vehicles and propulsion systems. Its portfolio includes Ski-Doo and Lynx snowmobiles, Sea-Doo watercraft, Can-Am all-terrain and side-by-side vehicles, Can-Am Spyder roadsters, Evinrude and Rotax marine propulsion systems as well as Rotax engines for karts, motorcycles and recreational aircraft. BRP supports its line of products with a dedicated parts, accessories and clothing business. With annual sales of over CA$3 billion from 105 countries, the Company employs approximately 7,100 people worldwide.