Torrance, CA (6/29/2017) - American Honda today confirmed the return four ATV models to the 2018 lineup. Also returning for 2018 are three popular Honda FourTrax multipurpose ATV models—the versatile Foreman Rubicon family, the sophisticated Rincon, and the agile Recon—as well as the exhilarating TRX250X sport ATV.
2018 Honda Foreman Rubicon 4x4 DCT EPS
"The four-wheel segment remains a vital part of Honda's powersports business, so we're pleased to continue offering our customers such a capable and fun lineup of products," said Lee Edmunds, American Honda's Manager of Motorcycle Marketing Communications. "Whether it be side-by-sides or ATVs, Honda is sure to have a model for everyone."
2018 Honda Foreman Rubicon 4x4 Models
Colors:

Foreman Rubicon 4x4 DCT: Red, Olive
Foreman Rubicon 4x4 EPS: Red, Olive, Orange
Foreman Rubicon 4x4 DCT EPS: Red, Olive
Foreman Rubicon 4x4 DCT EPS Deluxe: Matte Gray Metallic, Honda Phantom Camo

Price: Starting at $8,599
Availability: July 2017
The four-member, 500-class family of premium Foreman Rubicons is packed with powersports-category exclusives. For example, the Rubicon 4x4 EPS is the only ATV offered with a combination of a tough manual-shift transmission and independent rear suspension, and for those who'd rather not do all the shifting themselves, the other three variations come with Honda's revolutionary DCT gearbox, a durable, beltless geared system that has dual ranges and can execute shifts seamlessly.
2018 Honda Foreman Rubicon 4x4 EPS
The IRS contributes to an impressively comfortable ride, even when spending long days in the saddle, along with excellent handling over rough terrain. The long list of available features includes Electric Power Steering (EPS), and all models can be switched between three drivetrain settings: 2WD, 4WD and 4WD with Differential Lock.
2018 Honda FourTrax Rincon ATV Models
Colors: Red, Honda Phantom Camo
Price: Starting at $9,399
Availability: August 2017
Not only does the refined Rincon boast Honda's biggest ATV engine (a liquid-cooled 675cc single with a twin-plug cylinder head), it makes more efficient use of that power plant by mounting it longitudinally in the chassis, so that the crankshaft is aligned with the vehicle's direction of travel. This achieves a number of benefits, including a more direct link to the rear axle.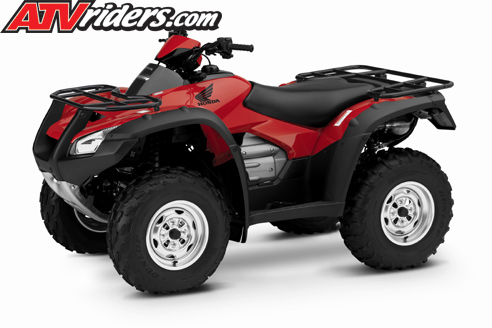 2018 Honda Rincon
The Honda Rincon is a premium model, with independent rear suspension and a three-speed automatic transmission, proving that a luxurious user experience is possible even in the rough world of ATVs.
2018 Honda FourTrax Recon ATV Models
Colors: Olive, Vapor White
Price: Starting at $4,099
Availability: July 2017
At the opposite end of the spectrum from the Rincon is Honda's 229cc Recon, an ATV that's relatively small in size but big on fun and value. Recognizing the importance of easy maneuverability for some users, engineers gave this model a small footprint and a light overall weight, resulting in nimble handling. As is the case with their larger models, Honda offers Recon customers options when it comes to the transmission, with a manual, foot-shift gearbox and electric, push-button ESP shifting both available. The Recon is now available in Vapor White, as well as Olive.
2018 Honda FourTrax TRX 250X ATV Models
Colors: Red, Active Yellow
Price: Starting at $4,749
Availability: July 2017
Now available in a new Active Yellow color (as well as Red), Honda's TRX250X has rightfully earned its reputation as the most approachable sport ATV on the market. Merging tried-and-true off-road capabilities with commonsense Honda technology, the TRX250X is sporty, fun, reliable, and user-friendly, all while remaining remarkably affordable. Just engage the SportClutch™—essentially an anti-stall setup with manual override capabilities—and the TRX250X provides smooth torque, pulling steadily into a broad offering of midrange power before settling into the lengthy top end.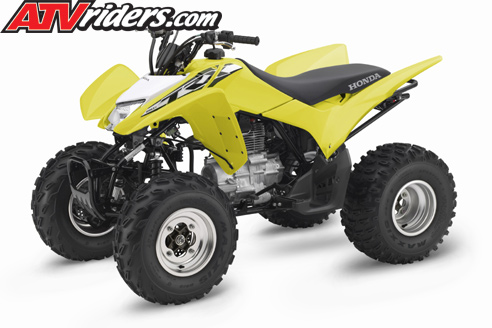 2018 Honda TRX 250X
Meanwhile, the TRX250X has an agile cornering character, giving the rider predictable handling over a wide variety of terrain types. Out front, the independent double-wishbone suspension tackles off-road obstacles with confidence, providing a smooth ride, and the single-shock rear suspension ensures that the ATV tracks straight and level. Up-and-coming riders will love the TRX250X's usable nature, but make no mistake—this machine is still a ripper.
ABOUT AMERICAN HONDA
American Honda Motor Co., Inc., is the sole distributor of Honda motorcycles, scooters, ATVs and Side-by-Sides in the U.S. American Honda's Motorcycle Division conducts the sales, marketing and operational activities for these products through independent authorized Honda retail dealers. For more information on Honda products, go to powersports.honda.com.